August 27, 2015
College of Education creates Office of Innovation & Collaboration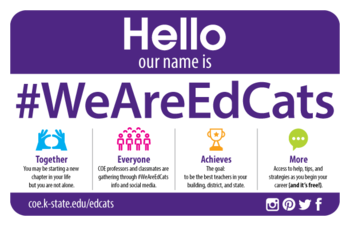 Debbie Mercer, dean of the College of Education, is announcing the creation of the Office of Innovation & Collaboration, a comprehensive effort to draw on the faculty's expertise and experience to help solve some of the most challenging issues in the profession.
The office was officially established this summer and its first program, Ed Cats, was launched this month. Tonnie Martinez, assistant professor of curriculum and instruction, was named program coordinator.
Mercer explained it is well documented the first few years of teaching are challenging as half of all new teachers nationally leave the profession within the first five years. It also is well documented the top predictor of K-12 student success is teacher effectiveness. Ed Cats is designed to address the issues of teacher retention and student achievement.
"There is an inherent connection between teacher retention and student success, and that is why we decided to focus initial programming on ways to keep highly-trained teachers in classrooms," Mercer said.
Ed Cats offers support for early-career teachers by providing access to free resources that include an electronic newsletter, a blog and networking through social media. The resources were developed after the college had focus groups, surveyed employers and sought input from school-based personnel.
"Our goal is to provide graduates with a toolbox that goes with them into their first job and we stay connected to them, available to them throughout their early career, which we have defined as the first three years," Martinez said. "We're building postgraduation relationships, and look at the benefits. It benefits students, schools, communities and industry," Martinez said. "This adds value to our graduates' degrees."
To learn more about Ed Cats, please watch this video, follow us on Twitter @WeAreEdCats or visit coe.k-state.edu/edcats.