August 27, 2015
Dan Thomson makes list of 20 Influential Farm Animal Veterinary Professors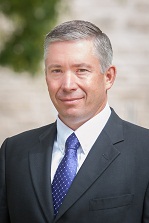 Congratulations to Dan Thomson, Jones professor of production medicine in the College of Veterinary Medicine and director of the Beef Cattle Institute, for being named to VetTechColleges.com's list of 20 Influential Farm Animal Veterinary Professors released this week.
He was recognized for being granted more than $34 million in research funds, published more than 69 papers and delivered more than 520 international lectures on all aspects of beef cattle production in his time at Kansas State University.
Thomson has been featured on major news outlets including the "CBS Evening News," and hosts a national veterinary talk show, "Doc Talk." In 2015, he was recognized as the National Beef Quality Assurance Educator of the Year.