August 7, 2015
K-State Olathe hosts inaugural campus kickoff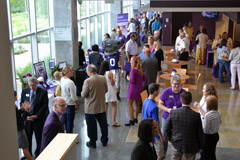 On Aug. 5, K-State Olathe hosted the inaugural Campus Kickoff, a celebration for students, faculty, staff and community. With more than 200 attendees, including representatives from the Manhattan and Global campuses, it truly was an event filled with purple pride.
The kickoff was designed as an orientation and campus information session. The program consisted of welcoming new staff — including Ralph Richardson, interim dean and CEO — and promoting what K-State has to offer the Greater Kansas City area. One of the highlights was sharing K-State Olathe's expanded scholarship program with students. Read more about K-State Olathe scholarship.
"The Olathe campus would like to send a warm thank you to all who attended and contributed to the event," said Janice Barrow, associate dean for academic affairs and executive education at K-State Olathe. "Your presence and energy helped to show our current, new and future students exactly what it means to be part of the K-State family."