July 28, 2015
Mercer named among 30 most influential deans of education
Submitted by Communications and Marketing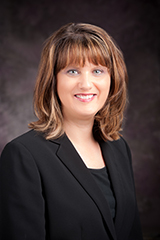 The dean of Kansas State University's College of Education is getting some high praise.
Debbie Mercer has been recognized as one of the 30 most influential deans of education in the U.S. by Mometrix, a test preparation company. To compile its list, Mometrix researchers checked ranking systems, honors, awards and commendations to education deans.
According to Mometrix, Mercer's accomplishments include her efforts to create technologically advanced learning environments at the university, including securing iPads for all preservice teachers and instructional faculty, and her efforts launching the Go Teacher program, which brings Ecuadorian teachers to the university and other institutions to enhance their English proficiency. The program has served more than 3,000 students.
Mercer is the only education dean from Kansas to earn the recognition and just one of two deans from the Big 12 Conference recognized.