July 9, 2015
Young Writers' Workshop concludes after a week of learning and creativity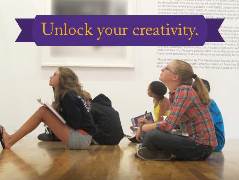 Kansas State University's second Young Writers' Workshop concludes this Friday after offering young writers the opportunity to use their imagination to create and share original pieces.
Participants will end the week with a graduation ceremony and reading of their work at 2 p.m. Friday at the Marianna Kistler Beach Museum of Art. It is free and open to the public.
Twelve students entering the eighth, ninth or 10th grades applied to attend the workshop hosted by the English department. The success of last year's workshop encouraged program staff to continue the event this year.
"We are thrilled to be holding our second Young Writers' Workshop at Kansas State," said Katy Karlin, associate professor of English and workshop director. "For the second time, through the generosity of the Beach Museum and others, young writers get to practice their art amid the inspiration of the Beach's collection. The workshop participants will draw on the expertise of four terrific visiting authors, starting with the celebrated Kansas-based playwright Catherine Trieschmann."
Other guest writers for the week were storyteller and historian Richard Pitts, slam poet Glenn North, and artist and author Stephen Johnson. Students spent two hours each afternoon with one of these published writers, learning valuable writing techniques and about the career opportunities available. Their daily schedule also involved a breakfast and warm-up, writing and sharing exercises, lunch and wrap-up exercises. All activities were at the university's Beach Museum of Art.
"Thanks to a gift from alumni Helen and Duke Dupre, we are able to offer this workshop for a second year without cost to the young writers and their families," said Karin Westman, department head of English. "We greatly appreciate the Dupres' support of English, so we can foster talent and creativity within our community."
Read daily updates from the week on the program's blog and Twitter account, or for information about program staff and sponsors visit the Young Writers' Workshop page.