July 13, 2015
Free screenings of 'The PHD Movie' July 17, 21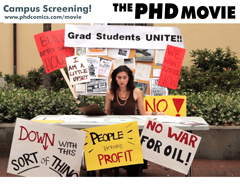 Need a break from your research? Enjoy poking fun at life as a graduate student? Like free snacks?
If you said yes to at least two of those questions, you should come to a free screening of "The PHD Movie" at 7 p.m. July 17 or 3:30 p.m. July 21 in the K-State Student Union's Little Theater.
The movie is a live-action adaptation of the popular Web comic strip by Jorge Cham.
According to IMDB, "The film follows the personal journeys of two graduate students as they struggle to find their place in the confusing — and often hilarious — world of high-state academic research." The movie was filmed on location at the California Institute of Technology and features real scientists and researchers. Watch a trailer.
The screening is sponsored by the Office of the Vice President for Research and the Graduate Student Council. RSVP by July 15 to ensure sufficient snacks for all.