May 28, 2015
Burg addresses American Academy of Arts & Sciences workshop today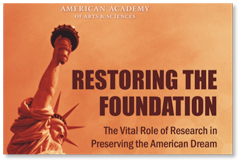 The American Academy of Arts & Sciences is hosting the workshop "A Conversation on Restoring the Foundation: The Important Role of Central and Southern Plains Institutions in Driving National Change" May 28.
Kansas State University Vice President for Research Karen Burg will discuss successful STEM education models and investments at the workshop.
The workshop will explore how university researchers, state leaders and legislators, and Experimental Program to Stimulate Competitive Research, or EPSCoR, directors in the Midwest and Plains states can play a greater public role in communicating the importance of the nation's science and engineering research enterprise.
According to the workshop's website, scientific and technological advances are fundamental to the prosperity, health and security of the U.S. Steady, reliable investments in research to achieve those advances are crucial for this country to remain globally competitive, as are strong partnerships among universities, state, and local governments.
"Restoring the Foundation" makes the claim that unless changes in policy and funding are made, America will soon lose its competitive edge.
EPSCoR is a National Science Foundation program with a mission "to strengthen research and education in science and engineering throughout the United States and to avoid undue concentration of such research and education." Including Kansas, 28 states currently qualify for the program.