May 28, 2015
Assistant dean of K-State Libraries publishes guide to Kansas plants
Submitted by Sarah McGreer Hoyt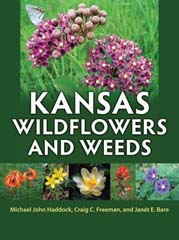 Michael John Haddock, assistant dean of K-State Libraries, has published "Kansas Wildflowers and Weeds."
Haddock and his co-authors, Craig C. Freeman and Janét E. Bare, gathered 35 years of new information discovered since the publication of Bare's 1979 volume, "Wildflowers and Weeds of Kansas."
The resulting work is significantly expanded, with entries covering 1,163 species — representing about 56 percent of the native and naturalized species currently known in Kansas — as well as 742 color photographs.
"This five-year project was a highly successful collaboration between authors who reside in three separate communities in two states," Haddock said. "It also required interinstitutional collaboration between Kansas State University and the University of Kansas."
"Kansas Wildflowers and Weeds" includes up-to-date nomenclature, keys and descriptions, as well as habitat, distribution and ecological information. Importantly, the publication also brings names and taxonomic information into line with recent revolutions in studies of DNA, macro- and micromorphology, cytology, ecology and phenology.
Haddock also is the author of "Wildflowers and Grasses of Kansas: A Field Guide," published by the University Press of Kansas. The Kansas Center for the Book selected it as a 2006 Kansas Notable Book, and the State Library of Kansas named it one of the "150 Best Kansas Books" in 2011 as part of the state's sesquicentennial celebration.