May 22, 2015
Polish teacher presents about social justice education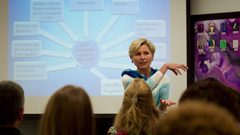 An acclaimed educator and Lowell Milken Center Fellow presented on Tuesday at the College of Education as part of its yearlong focus on social justice education.
Marzanna Pogorzelska, an award-winning Polish high school teacher, presented about social justice education initiatives and project-based learning within a Polish context.
Pogorzelska provided a riveting account of her nation's history — its postwar mindset, identity crisis and the economic realities of communism, which lasted until 1989.
"After the war, every word, every song, every poem that was publicly spoken in Poland was censored," she said. "The social life was marked by unification. We were supposed to be the same in the way we think, we speak and the way we work. All of these things were mirrored in education. In Polish context, education was very much influenced by post-war destruction. We lost the material base of education — schools, libraries and culture houses. We lost one-third of our teachers, but also doctors, priests, lawyers — everything that creates the cultural tissue of the nation."
She then explained the vast economic and social challenges ushered in by her country's move to a free-market economy as the people of Poland found their country changing yet again. The change also brought to light many social justice issues.
"Democracy and human rights sort of fell on the teachers after 1989," Pogorzelska said. "After years of teaching in the old system, it was not clear to them how they should do it. They were not taught how to rule school in a democratic way."
Susan Yelich-Biniecki, assistant professor of educational leadership, and the committee for social justice education invited Pogorzelska to campus. This same group recently developed a graduate certificate in social justice education and classes started in May.
"This conversation gave us an important opportunity to think about social justice education through a different lens and reflect on our own subjectivities as educators and researchers as we engage with social justice education with diverse communities and international colleagues, including those in our own organizations," Yelich Biniecki said.
Pogorzelska earned her master's degree and doctorate in pedagogical sciences from Opole University in Poland and has taught at the secondary level for 18 years in her hometown of Kedzierzyn-Kozle. She received the Teacher and Citizen Laureate award from the countries of Poland, France, Germany and Spain. In 2012, she was honored with the Golden Cross of Merit Award from the President of Poland, which is given to teachers who have outstanding educational achievements in shaping the civil virtues of the young generation.