April 21, 2015
Kim publishes book about narrative inquiry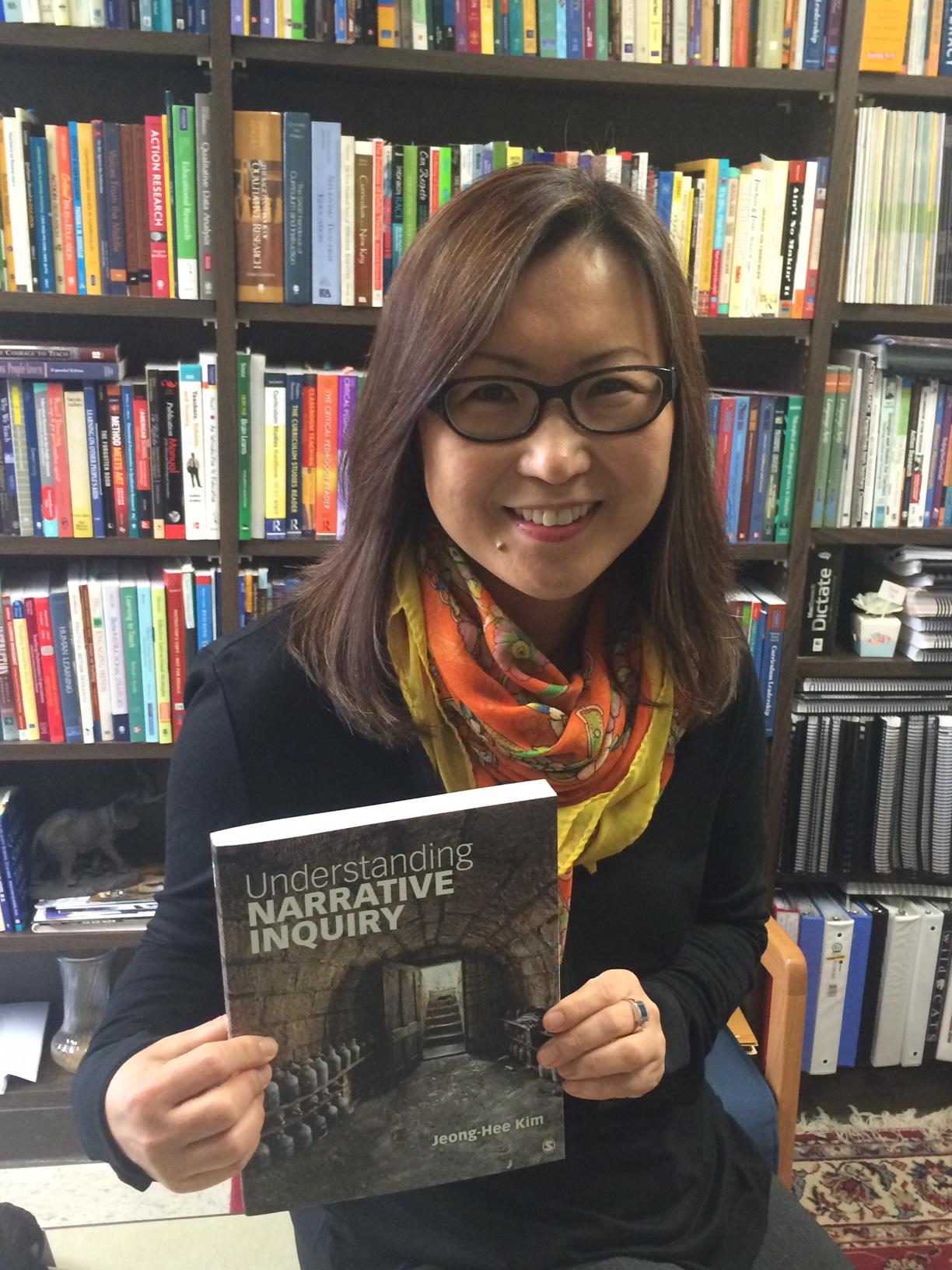 A College of Education faculty member's new book on narrative inquiry research illustrates why people's stories are actually data with heartbeats.
Jeong-Hee Kim, associate professor of curriculum and instruction, recently published her first book "Understanding Narrative Inquiry: The Crafting and Analysis of Stories as Research."
The cover photo, an arched cave in Geary County, Kansas, that wraps around the back of the book, was taken by Tom Parish, a two-time K-State alum. The front cover shows a door with a few steps leading to sunlight, and the image comes to a dramatic end on the back as the cave's path leads to a stone wall. Kim believed this was the perfect image for her book because it represented how narrative inquiry opens doors to the world of stories that need to be told.
She said narrative inquiry sheds light on many of today's social challenges and issues through stories that people share. The methodology, she said, was once largely dismissed by the research community but now is embraced by a variety of fields including psychology, sociology, anthropology, economics, business, law and even medicine.
"Narrative in the field of medicine, for example, is becoming popular," Kim said. "At Columbia and other medical schools, narrative medicine programs have been created where narratives are used to train future doctors as a way to humanize the field of medicine, realizing that practicing doctors tend to overlook their patients' stories. Narrative medicine has proven to be a very successful tool in helping doctors diagnose and treat patients because they are taught to pay attention to what their patients have to say."
Kim was introduced to the methodology while working on her doctoral degree at Arizona State University.
"My dissertation adviser is a pioneer of narrative inquiry in education who created a special interest group called Narrative Research for the American Educational Research Association," she said. "I took his class and fell in love with it because of its approachability. Stories are a part of our daily life, and we make sense of our lives through stories. Research can be viewed as cold and distant, but narrative inquiry is really about understanding what it means to be human and it does so through exploring and excavating people's life stories to make the world a better place."
As researchers and students are increasingly interested in what stories can offer to help them broaden their research fields, there has been a need to develop narrative inquiry as a more rigorous, interdisciplinary research methodology. Kim's book is an effort to meet such a need with firm underpinnings of theoretical, philosophical, social, methodological and practical considerations.
"Telling stories is not enough." Kim said. "We have to make sense of those stories using our theoretical framework, and from there, we can draw implications, answering the question, 'So what?' The goal is to reach out and improve the quality of people's lives by addressing the social issues and challenges at hand."
Kim and College of Education colleagues Amanda Morales, assistant professor and diversity coordinator, and Sandra Avalos, academic advisor, are collaborating on a narrative inquiry project that Kim addresses in the book about the college's documentary "A Walk in My Shoes: First-Generation College Students." The film debuted in fall 2014 and each person's story is available on the college's website. The documentary delved into the lives of eight people who told about their journeys to college.
The researchers took transcripts from the video interviews and synthesized the fragmented narratives to life stories of each storyteller to illustrate what these students' experiences were like. This will provide important information about how institutions can do a better job of supporting first-generation college students.
"We hope to take our college's documentary series further to the level of research, so that we can find ways to make a broader impact at the scholarly and policy level," Kim said. "And, I hope the research reveals what we can do better as a college and as a university for first-generation college students. We are also planning to create an eBook so many groups will have access to our research findings, including teachers and academic advisors at high schools and community colleges."
Kim joined the faculty in 2005 and teaches graduate-level courses. She was born and raised in South Korea and moved to the United States in 1998. Her most recent articles have appeared in the Journal of Curriculum Studies, Journal of Curriculum Theorizing, International Journal of Qualitative Studies in Education, and Educational Philosophy and Theory.