April 20, 2015
Copy/Paste/Culture: Plagiarism Education Week at K-State Libraries
Submitted by Sarah McGreer Hoyt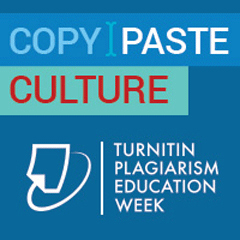 How can an institution's culture promote integrity? What trends in students' lives influence instances of plagiarism on campus?
Learn the answers to these questions and more at a series of free, 45-minute webinars April 20-23 at K-State Libraries.
K-State Libraries will recognize Plagiarism Education Week by offering faculty, students an online portal to Copy/Paste/Culture, Turnitin's 2015 Plagiarism Education Week conference. The conference examines how current global trends are affecting our values, especially those related to education.
No registration is required. Attend one or all of the webinars.
For more information, contact Rebel Cummings-Sauls, director of the Center for the Advancement of Digital Scholarship, at rebelcs@k-state.edu or 785-532-7417.