March 30, 2015
Chief George Tiger gives keynote address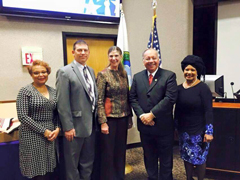 On Tuesday, March 24, more than 200 people showed up to hear George Tiger, principal chief of the Muscogee (Creek) Nation and regent for Haskell Indian Nations University, deliver a keynote address that outlined overcoming adversity to achieve progress and community advancement through themes of vision, education, leadership and unity.
Students, staff, faculty, community members and representatives from K-State and the state of Kansas gathered at the Little Theatre in the K-State Student Union for this exciting event, which served as the kick off for the inaugural K-State Alumni Powwow and Speaker Series.
The event opened with introductions from LaVerne Bitsie-Baldwin, Navajo, director of the multicultural engineering program, and Dwanna Robertson, Muscogee, assistant professor of American ethnic studies. Bitsie-Baldwin and Robertson discussed with the audience how this event was particularly significant for Kansas State University. The keynote was the first in a series of events leading up to the first powwow at K-State in more than 15 years.
Bitsie-Baldwin closed the introductions with a traditional prayer and gratitude to the first peoples of this land.
Many in attendance extended warm messages of welcome to Principal Chief Tiger. Representing the Office of the Governor was Mildred Edwards, executive director for the Kansas African American Affairs Commission, and Mark Dodd, executive director of the Kansas State Gaming Agency and director of the Kansas Native American Affairs Office.
Edwards expressed her appreciation of K-State's diversity efforts and outreach to indigenous peoples that had culminated in Chief Tiger's visit. Dodd, Cherokee, first brought warm greetings from Gov. Brownback to Chief Tiger. Dodd then emphasized the importance of recognizing tribal governments as sovereign entities, pointing out the common misconception that relations with tribes are race-based, whereas they should be understood as nation-to-nation interactions.
Provost and Senior Vice President April Mason, Associate Provost for Diversity Myra Gordon, and several committee members from the College of Arts & Sciences Diversity Committee welcomed Chief George Tiger, First Lady Frances Tiger and their daughter, Molly Moore, and addressed the audience. Mason warmly welcomed Chief Tiger and stressed the importance of supporting diversity initiatives like the K-State Alumni Powwow and Speaker Series that serves to engage K-State alumni, faculty, students and community members and celebrate the achievements of indigenous faculty, students and alumni, as well as to gain cultural awareness about contemporary indigenous peoples. Gordon extended greetings as an African chief, but also pointed out that making this initial connection with Chief Tiger and Muscogee (Creek) Nation is in line with K-State initiatives to increase recruitment and retention efforts for indigenous students.
Chief Tiger and Provost Mason participated in a traditional gift exchange to represent the compact between Muscogee (Creek) Nation and K-State. A citizen of the Muscogee Nation, Robertson, introduced Chief Tiger with a brief account of growing up in Oklahoma within Muscogee (Creek) Nation's jurisdictional boundaries. Robertson described living in abject poverty, feeling fearful of getting ill because of the lack of accessible health care and enduring discriminatory label, and then contrasted that to current progressive record of Muscogee (Creek) Nation, particularly in the last three years of Chief Tiger's first term as principal chief.
Chief Tiger's talk, "The Mvskoke Way," had the audience's attention with stories of overcoming childhood polio, playing college football, fighting against racism and discrimination, and serving indigenous peoples in numerous capacities. He recounted the numerous advancements of Muscogee (Creek) Nation and his administration's nationally recognized contributions in human, health, economic, education and community services. At the end of his talk, Chief Tiger was met with a standing ovation. Chief Tiger expressed gratitude for the invitation.
Future events include a film screening of what is billed as the first Native American Zombie movie, "The Dead Can't Dance," at 1:30 p.m. Friday, April 3, in the Little Theatre in the K-State Student Union and the first K-State Alumni Powwow from 10 a.m. to 7 p.m. Saturday, April 11, in Ahearn Field House.
The K-State Alumni Powwow and Speaker Series was established in January 2015 with an award from the Academic Excellence Fund from the Office of the Provost. Other sponsors include the Office of Diversity, College of Engineering, K-State Alumni Association, College of Arts & Sciences, College of Arts & Sciences Diversity Committee, Dow Center for Multicultural and Community Studies, and Multicultural Engineering Program.
For more details and donation and/or volunteer opportunities, please contact Bitsie-Baldwin at lbaldwin@k-state.edu or Robertson at dwanna@k-state.edu.