March 26, 2015
Landscape Contracting Team places eighth out of 65 collegiate teams at national competition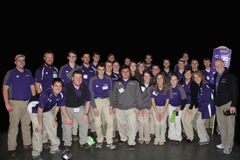 The Kansas State Landscape Contracting Team, with 26 members, was awarded eighth out of 65 colleges and universities on March 15 at the National Collegiate Landscape Competition closing ceremony at North Carolina State University.
This is an annual three-day competitive event among students enrolled in horticultural programs across the country and entirely sponsored and judged by industry leaders.
Students compete in 28 events directly related to the skills necessary for professional landscape industry careers. This event also hosts the largest career fair in the country allowing students to meet and interact with prospective industry employers.
Team members in the top 10 of their competitive events include; Brady Hendricks and Nate Snethen, eighth place in Arboriculture Techniques; Conner White, first place in Business Management and seventh place in Woody Plant Identification; Alan Rourke, fifth place in Construction Cost Estimating and sixth place in Irrigation Troubleshooting; Andrea Johnson, sixth place in Interior Landscape Design; Levi Vogt and Bobby Young, second place in Irrigation Assembly; Levi Vogt second place in Irrigation Design; Matthew McKernan, sixth place in Irrigation Troubleshooting; Dylan Seley, Caitlynn McVey and Levi Vogt, ninth place in Landscape Plant Installation; and Brooke Stamm 10th place in Woody Plant Identification.
Greg Davis was awarded the 2015 Academic Education Foundation Educator of the Year Award. This prestigious, national award recognizes educators who have been passionate supporters and tireless ambassadors of the landscape industry. Recipients of the award are individuals who have gone above and beyond the call of duty by contributing time, energy and enthusiasm to their programs; and show dedication to the education of future industry leaders. This video was shown during the award presentation.