March 26, 2015
Art department announces a new minor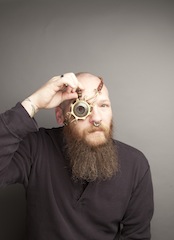 The art department is now accepting students in the new minor in art program.
Students can choose to focus in one area of studio art — ceramics, digital/experimental media, drawing, metalsmithing and jewelry, painting, photography, printmaking, sculpture — or choose to take classes in several disciplines. Two upper-level classes in one discipline are required so that students gain some proficiency in an art discipline. The minor is 18 credits, and can easily be combined with majors in other departments or colleges, especially if started early in the student's undergraduate program.
David Hammons is working on a Bachelor of Science in mechanical engineering, and has added a minor in art focused on metalsmithing and jewelry. He is pictured here with the unique eyewear he created in his metalsmithing class.
Regarding his decision to add a minor in art, Hammons says, "Although the two areas — art and engineering — may seem diametrically opposite, I disagree. There is a lot of crossover. Both are essentially about a design process. And both are about problem solving. The end product may be different between the art piece and the fuel-efficient engine or a nuclear reactor but the process is the same. It's just with art you get to focus on the aesthetic aspect as well as the functional aspect.
"Working in metals has improved my attention to detail in my mechanical designs and given me a new way of looking at mechanical engineering," Hammons said. "I enjoy the 'Zen' aspect of going to the studio, putting on my headphones and just working. In the past artists were the engineers and I think that anybody in engineering is also a creative person, should be, or at least have exercised that right brain. We have awesome professors in the metals area; they really get me excited."
To sign up for a minor in art, go to the art department office in 111 Willard Hall.