March 10, 2015
One Health Summit March 31-April 1 in Kansas City, Missouri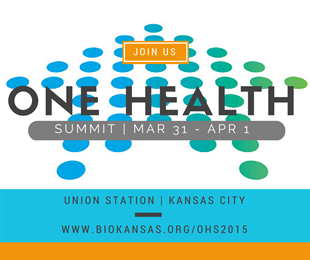 The sixth annual One Health Summit will be March 31 through April 1 at the iconic Union Station in Kansas City, Missouri. The summit is an annual event with the purpose of sharing knowledge and creating connections that accelerate drug development, strengthen public safety and boost economic growth based on the OneHealth concept — that people, animals and the environment are all connected.
K-State's College of Veterinary Medicine is co-sponsoring a research poster session during the event. Prema Arasu, CEO and vice provost, K-State Olathe, will serve on a panel discussion on workforce development in science, technology, engineering and mathematics related industries.
The 2015 One Health Summit will focus on the pragmatic implementation of One Health principles in the drug development process, essentially providing a primer for establishing, funding, building and exiting a biotech company. Attendees will hear from regional, national and international experts in both human and animal drug development on company formation, business development, preclinical studies, regulatory concerns, clinical trial management and partnering. They also will see emerging technology presentations from innovative biotech start-ups.