March 6, 2015
First issue of undergraduate interdisciplinary journal published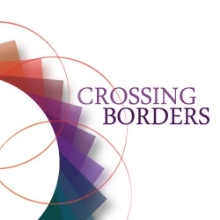 The inaugural issue of Crossing Borders: An Interdisciplinary Journal of Undergraduate Scholarship is now available. The journal is accepting submissions for future issues.
Published by New Prairie Press, an online imprint of K-State Libraries, the journal encourages multidisciplinary research and allows students to share their work with a wider community of scholars.
The journal is a partnership between K-State Libraries, the English department, the University Honors Program and Frontier, an interdisciplinary program involving undergraduate students at K-State and a number of other universities.
Jason Coleman, undergraduate and community services librarian, serves as one of the three faculty editors for the journal.
"The editorial team for Crossing Borders is delighted by the quality of the articles in our first issue," Coleman said. "The essays exemplify what undergraduates can accomplish when they are passionate about contributing to intellectual discourse and when they are open to constructive feedback. The bar has been set, and we look forward to seeing it matched or exceeded."
In addition to articles, future issues of the journal will include a section titled Book Reviews and Field Notes that will feature short reviews of books, archives, special collections and online digital resources of interest to interdisciplinary study.
The editorial team hopes that faculty will construct writing assignments that undergraduates will then be able to submit for peer-reviewed publication. Submission guidelines for articles and reviews are available from the journals website.
The journal's editors include Coleman; Karin Westman, associate professor and department head of English; and Jason Ackleson, Frontier co-director. Additional editorial support is provided by Stacia Gray, managing editor and English instructor; and Tim Cochran, editorial assistant and assistant in the university honors program. The editorial team can be contacted at crossingborders@k-state.edu.
For more information about the founding of the journal, read the earlier announcement.