January 20, 2015
K-State's first university archivist retires: Crawford saw three decades of growth at Libraries
Submitted by Sarah McGreer Hoyt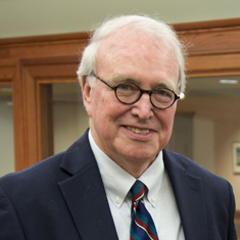 Anthony Crawford is retiring in January after 31 years as a force for growth and research at Kansas State University Libraries. Crawford, who was hired by President Duane C. Acker and former Dean of Libraries Brice Hobrock in 1983, was the first professional archivist in the university's special collections department.
A reception in his honor will be from 2-4 p.m. Wednesday, Jan. 28, in Hale Library's Hemisphere Room. The public is invited to attend.
When Crawford came to the university, his arrival effectively doubled the size of the department to two full-time staff members. He recalls that the entrance was marked by two solid double doors and a sign with a bell prompting visitors to ring for service. Crawford went on to play a leadership role in special collections, serving as head from 1992 to 2005. He ensured that the "ring bell for service" mentality was replaced with a more welcoming atmosphere characterized by today's pleasant, inviting reading room on Hale Library's fifth floor.
"We were fortunate to hire a professional archivist of Tony's experience," Hobrock said. "Under his guidance the archives became an important asset, serving as a source for all those historical references that form the foundations of this great university. His professionalism and good humor contributed much to K-State Libraries."
Crawford fondly recalls the many donors he worked with to develop the Marjorie J. and Richard L.D. Morse Department of Special Collections into a highly successful and respected research center. His work with Richard Morse was especially fruitful: the Morse family established a major endowment for special collections, and the department was named in their honor in 1997.
All told, Crawford played a major role in establishing endowments and foundation accounts for Special Collections in excess of half a million dollars.
Crawford also worked with Morse to found the Consumer Movement Archives, or CMA, and establish it as a national repository for the personal papers of consumer advocates and records of consumer organizations.
In addition, he guided the acquisition of a number of notable research collections. Some were generated at Kansas State University, such as the papers of the office of the president, historical records of the Konza Prairie from the Division of Biology and the papers of legendary basketball coach Jack Hartman.
Others came from high-profile individuals such as journalist David Dary, historian Kenneth Davis, blues musician Jimmy Rogers and Army Lt. Gen. Richard J. Seitz. Crawford also led acquisition of organizational archival collections, including agricultural-related collections, including Farmland Industries and military collections such as The Society for Military History, whose membership includes some of the world's most prominent scholars in the field.
"The Morse Department of Special Collections looks forward to a bright future, thanks in no small part to Tony's pioneering work," said Lori Goetsch, dean of K-State Libraries. "We are grateful for his many contributions."
Beyond his work in developing the department's collections and financial future, Crawford co-authored "Generations of Success: A Photographic History of Kansas State University, 1863-2013," as well as other shorter pieces on the history of Manhattan and the university campus and its students.
For more information regarding the retirement reception, contact Sam Dickerson at 785-532-7402.