December 5, 2014
K-State Crops Team claims sixth straight national championship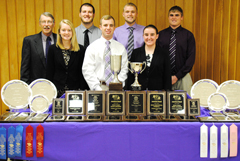 The Kansas State University Crops Team recently captured the title of national champion for the sixth year in a row. K-State teams have now won the collegiate crops contest championship in 13 of the past 16 years. To win the 2014 national title, the team won both the Kansas City American Royal Collegiate Crops Contest on Nov. 18 and the Chicago Collegiate Crops Contest on Nov. 22.
Official members of the K-State team were Sam Knauss, Paola; Tyler Herrs, Linn; and Ben Coomes, Girard — all juniors majoring in agronomy. Alternates for both contests were Samantha L'Ecuyer, Morrowville, sophomore in agronomy, and Michaela Simmelink, Downs, senior in animal sciences and industry. Hayden Guetterman, Bucyrus, sophomore in agronomy, was also an alternate in Kansas City.
At Kansas City, the K-State team placed first in all three phases of the contest: plant-and-seed identification, grain grading, and seed analysis. At Chicago, they were first in identification and grain grading, and second in seed analysis. Individually, the three K-State team members placed first, second and third in Kansas City, posting the highest team score since Texas Tech University in 1965 in this contest. All three also were in the top five in Chicago.
Sam Knauss led the K-State team with a first place sweep of both Kansas City and Chicago. In doing so, he also placed first in all three components in both contests, a result that has never been accomplished in the 81-year history of both contests. His total score of 1794 out of a possible 1800 in Kansas City was the highest individual performance there since 1965.
Ben Coomes was second overall in Kansas City and fifth in Chicago. He placed third in all three components in Kansas City. At Chicago, he was third in identification, fourth in grain grading, and fifth in seed analysis.
Tyler Herrs finished third in Kansas City and fourth in Chicago. At Kansas City, he placed second in identification and seed analysis and fourth in grain grading. At Chicago, he was fourth in identification and analysis and fifth in grain grading.
The team was coached by Kevin Donnelly, K-State professor of agronomy.
The American Royal coordinated the Kansas City contest, with CHS Foundation as the primary financial sponsor. Additional sponsors were the American Society of Agronomy, DuPont Pioneer, and the South Dakota Crop Improvement Association.
The primary sponsor of the Chicago contest was the CME Group. Additional donors in Chicago included the Crop Science Society of America, Growmark Cooperative, and the Society of Commercial Seed Technologists.
Locally, sponsors for the K-State Crops Team include the Kansas Crop Improvement Association, agronomy department and the K-State Student Government Association.
For its performance, K-State received a team scholarship award from contest sponsors at Kansas City, and CME Group provided individual scholarships to the top five students at Chicago.