December 16, 2011
K-State College of Architecture, Planning and Design alumn creates study abroad scholarships with monetary gift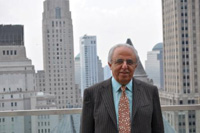 In today's global society, gaining an understanding of the world through international experience is an increasingly important element of a university education. K-State alumnus Ben Hakimian, founder and president of Hakimian Organization, a New York City real estate development company, is helping give students in the college the opportunity to study abroad with a $120,000 gift to establish three annual study abroad scholarships in the K-State College of Architecture, Planning and Design.
A 1967 graduate of the college, Hakimian felt study abroad was the one component missing from his college education and that it's an integral part of an architecture, planning and design curriculum that prepares students not just for design careers — but for life. Giving back is his way of reinvesting what he received as a student.
"The College of Architecture, Planning and Design students are creative and innovative by nature, and studying abroad will broaden their vocabulary of design. But that creativity should not be limited only to architecture — you can use it in many ways in all aspects of your life," Hakimian said.
"I always appreciate the period when I was at K-State so much because I have used that character and that creativity throughout my life," he said. "That was a special time of my life, and if I can give back some of it, it would be my pleasure."
Philanthropic contributions to K-State are coordinated by the Kansas State University Foundation. The foundation staff works with university partners to build lifelong relationships with alumni, friends, faculty, staff and students through involvement and investment in the university.
Story and photo courtesy of Patience Jones/Graphicmachine