June 24, 2011
Beach Museum curator to host panel on Maude Mitchell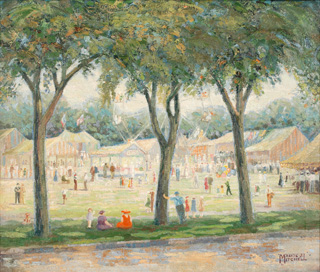 Liz Seaton, associate curator at the Marianna Kistler Beach Museum of Art, will moderate a panel on artist Maude J. Mitchell at 12:45 p.m. Saturday, June 25, at the annual meeting of the Wabaunsee County Historical Society.
St. John Lutheran Church, 218 W. Second St. in Alma, will host the meeting. A reception will follow at the Wabaunsee County Historical Society Museum, 227 Missouri St. in Alma. The panel coincides with the society's exhibition, "Homesteads of the Free: The Art of Maude J. Mitchell (1875-1957)," on display until July 5. The exhibition has been organized with assistance from the Beach Museum of Art and the Mt. Mitchell Prairie Guards.
Mitchell was raised outside Wabaunsee, Kan., by pioneer abolitionists. She studied art on the East Coast and returned to Kansas in 1915 to manage the family's lands south of Wamego along the Kansas River. The exhibition features 30 Mitchell oil paintings, which offer views of Pottawatomie and Wabaunsee counties and allude to the region's abolitionist and post-Civil War history. The exhibition and panel are free and open to the public. For more information, call 785-765-2200.