September 22, 2014
K-State students, faculty speak out in observance of Banned Books Week
Submitted by Sarah McGreer Hoyt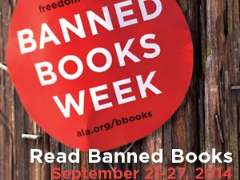 K-State Libraries, Sigma Tau Delta International English Honor Society and the English department are co-sponsoring a series of events Sept. 21-27 to recognize Banned Books Week.
A host of K-State students, faculty and staff will read from notorious and surprising banned books noon to 1 p.m. Monday-Friday, in the Free Speech Zone at Bosco Student Plaza. Selections include books that have been banned or challenged in libraries and schools, including titles like "To Kill a Mockingbird" or the "Hunger Games" series. The daily event is free and open to the public.
"The American Library Association holds Banned Books Week each fall to celebrate the freedom to read and the importance of the First Amendment," said Daniel Ireton, assistant professor and undergraduate and community services librarian at K-State Libraries. "This collaborative event with the English department is a natural partnership between people who are passionate about the value of reading."
Students, faculty and community members further interested in censorship's impact on education are invited to attend a panel discussion, "Banned Books: A Conversation about Censorship," 4-5 p.m. Friday, Sept. 26, in the K-State Student Union's Little Theatre.
Speakers include three librarians, Ireton; Lucas Loughmiller, director of library services at USD 383; and Susan Withee, adult services department manager at Manhattan Public Library, as well as Christopher Sorensen, university distinguished professor, department of physics. The group will consider a wide range of censorship issues, including the implications of the Kansas Board of Regents' social media policy.
Finally, enjoy a film based on Suzanne Collins' best-selling — and frequently banned — book series at 2 p.m. Saturday, Sept. 27, in the Groesbeck Meeting Room + Friends' Room at Manhattan Public Library. The event is hosted in collaboration with K-State Libraries. The movie is rated PG-13; children under 13 must have an accompanying adult. Attendees are welcome to stay afterward for a discussion of the film and banned books.
For further information about the K-State events on or off-campus, contact Ireton. To learn more about Banned Books Week nationwide, visit the American Library Association website.