November 21, 2011
Helping those who need it most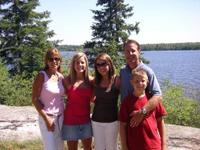 Rob Schneider, K-State alumnus and founding partner of Prairie Capital Management, credits his time at the university as being deeply influential on his life and career.
A 1979 graduate of the K-State College of Business Administration, Schneider was awarded the Larry Wisdom Scholarship while at K-State and continues to stay engaged with the university by serving on the Kansas State University Foundation Board of Trustees with his wife Denise. The Schneiders, who live in Hinsdale, Ill., with their three children, are also members of the foundation's 1863 Circle and President's Club, and served as regional committee members during the Changing Lives Campaign.
In summer 2011 they established the Rob and Denise Schneider Leadership Scholarship, which supports incoming undergraduate students in the K-State College of Business Administration. Recently Rob Schneider shared reflections on his time at K-State and the importance of giving back to the institutions that helped shape us into the people we are today.
---
Talk about your experience at K-State — how has K-State been an influence on you?
I had a combination of many great experiences at K-State, too many to name. I was active as a member of the baseball team for a few years and I was also a member of the K-State flying club. But it was really the professors and the friends that made it a terrific experience. I made a lot of friends during college who I'm still in contact with today.
Why is K-State important to you?
I'm a proud K-State alumnus. My years at K-State were some of the best of my life. I grew so much while I was there and it really had a profound impact on me. K-State has always been near and dear to my heart.
How did you eventually decide to create a scholarship?
For one, I know times are tough for a lot of families right now. I was fortunate to not have to worry about that when I was in school and I've always wanted to give back in some way. The idea of creating a scholarship was presented to us by the foundation and it really hit home. There are a lot of great kids that can use that support. Working with the foundation was an easy, friendly, low-pressure process.
Why is it important for other donors to keep supporting K-State?
There are a lot of deserving kids and if it weren't for donors they couldn't be here. When you have the ability, it's important to give back to the people and the organizations that have helped you along the way — and it just feels good to do it.