November 21, 2011
Choosing to Live United impacts our community
Submitted by Communications and Marketing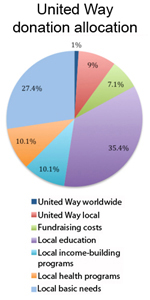 Participating in the K-State United Way Campaign demonstrates that we support our neighbors and helps impact the quality of life for people in our community who need it most.
The K-State United Way Campaign will conclude Dec. 9. Donations go to numerous organizations, including: Manhattan Day Care, Big Brothers Big Sisters, Boys and Girls Club of Manhattan, Shepherd's Crossing, Housing and Credit Counseling, Kansas Legal Services, Manhattan Emergency Shelter, Crisis Center, Sunflower CASA, Catholic Charities, RSVP and American Red Cross.
Wondering how much to give? A donation of ...
• $50 provides one day of shelter for a family of four.
• $100 provides a mentor for a troubled youth for three months.
• $250 provides six months of financial counseling, enabling a family to reduce their debt and start a savings account.
• $1,000 provides one infant care scholarship for a full month.
More than 450 participants have already donated $69,511.98 to make a difference in our community. If we all give a little, we can accomplish a lot. There are so many reasons to Live United. On your donation form, you can contribute to a particular key area: education, income and health.

Haven't received your K-State United Way contribution materials?
Please visit www.k-state.edu/unitedway.

Why do you Live United?
View this video to see why K-Staters on our campus choose to give to the United Way.

This year's campaign goals are:
1,000 total participants
$200,000 in donations

Last week's winners are:
Jennifer Gehrt, Division of Human Resources, K-State Men's Basketball vs. North Florida, two tickets, center court chairback. Donated by president's office.
Carla Bishop, Division of Financial Services, reserved space in parking garage for one semester. Donated by Parking Services.
Jennifer Brunenn, College of Education dean's office, autographed football from Bill Snyder. Donated by K-State Athletics.
Lawrence Erpelding, department of communications, $15 Union gift card. Donated by K-State ID Center.
Glenn Miller, housing and dining services, the Celtic Tenors Christmas, 2 tickets. Donated by McCain Auditorium.

United Way's Winter Warm-Up Coat Drive
The United Way is collecting new and gently used coats, hats, scarves, gloves and winter boots. The items will be distributed to those in need in the greater Manhattan area. Please bring items to the department of sociology, anthropology and social work in 204 Waters Hall by Wednesday, Nov. 30. Visit www.unitedwayrc.org for more information.
Submitted by Jan Middendorf, 532-4716, jmiddend@ksu.edu