August 27, 2014
Wildcats Run for Wellness 5K Sept. 6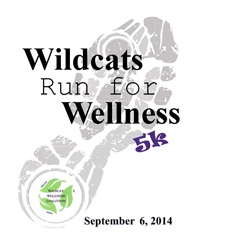 Kansas State University's Wellness Coalition welcomes all students back to campus.
Come join the Wellness Coalition on Saturday, Sept. 6, for Wildcats Run for Wellness 5K, a run through campus. This race will start and finish at the Chester E. Peters Recreational Complex.
Register before Aug. 29 to be entered into a drawing for two free football tickets to the opening game on Aug. 30. The race registration fee is $15 for students and $20 for nonstudents.
We also will give away gift certificates to local businesses and a poster signed by Coach Bill Snyder. All runners will get a T-shirt and bag. An awards ceremony will be directly after the race with free food and beverages for everyone.
We hope to see you there.