August 27, 2014
Thurston, Thompson appointed to endowed professorships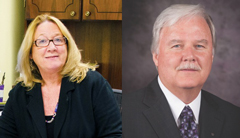 Two College of Education administrators were recently appointed to endowed professorships.
Linda P. Thurston, professor and associate dean for research and external funding, and David C. Thompson, professor and chair of the department of educational leadership department, have been named Skeen professors. The professorships were established in 1997 and named after their generous benefactors and lifelong educators, Elvon and Lydia Skeen.
Debbie Mercer, dean of the college, made the announcement.
"Named professorships are prestigious commodities in academia, and we are forever grateful to the Skeens for their commitment to education," Mercer said. "It is a heavy responsibility to honor someone's wishes — and truly capture the kind of mark they wanted to leave in this world — and match that with individuals who possess the ability and credentials to turn that vision into reality. Linda and David are two such people."
Thurston holds the Lydia E. Skeen Endowed Professorship. Her impressive academic career has spanned nearly three decades at K-State. She has been awarded approximately $15 million in external funding and now mentors faculty in proposal development. An active advocate for pathways in science, technology, engineering and math, or STEM, Thurston served as a program officer for the National Science Foundation where she was presented with the director's award of excellence in 2011 shortly before her departure.
Her many scholarly accomplishments include a co-authored textbook that is in its seventh edition, delivering nearly 200 scholarly presentations, and serving as the original director of the educational innovation and evaluation office.
Thompson holds the Elvon G. Skeen Endowed Professorship. Thompson is revered as one of the nation's foremost experts on P-12 education finance and is often sought out by local and national media on important school funding issues.
His 40-year professional career includes experience as a public school teacher, high school principal, school superintendent and professoriate. Thompson has published seven books, 27 refereed monographs, 15 refereed book chapters, including chapters in four consecutive yearbooks of the American Education Finance Association, 36 refereed journal articles and 19 other published works, along with almost 150 professional presentations.
He serves or has served on the editorial boards of six different journals and is the founding co-director of the University Council for Educational Administration's Center for Education Finance. In 2012, Thompson was named the National Education Finance Corporation's distinguished fellow of research and practice. The following year he was honored with the organization's lifetime achievement award.