August 25, 2014
K-State First launches free, online textbook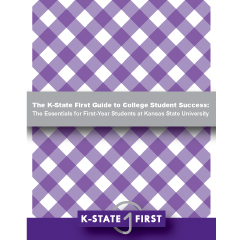 K-State First recently launched the first-ever "K-State First Guide to College Student Success: The Essentials for First-Year Students at Kansas State University."
This free, online-only textbook will be an excellent tool for first-year students looking for information and for faculty who want to give their students a specific, K-State-tailored guide for success in the classroom. Upperclassman can benefit from the advice in the book as well, especially if they have questions regarding proper group project behavior or ways to make connections with their professors and advisors.
In addition, the book describes K-State history and traditions for students who want to brush up on their Wabash. Another section details proper classroom behavior and how to send a professional email. The book details health and wellness resources, gives advice about making the transition to college-level writing, and describes ways that students can maintain healthy finances. Sections on "The Ghost Map" by Stephen Johnson and ways to cultivate critical thinking and information literacy round out the guide. You can download the guide for free.