August 25, 2014
Interactive adventure gives students introduction to Hale Library
Submitted by Sarah McGreer Hoyt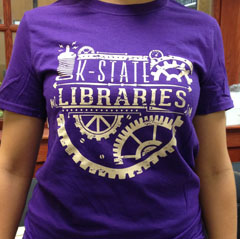 Would you like your students to get to know K-State Libraries? Encourage them to participate in "Choose Your Own Library Adventure" from 7-9 p.m. Aug. 27. This fast-paced, entertaining game will help students understand how a university library aids in academic success.
As they move from station to station and complete various challenges, students will learn:
The many ways to receive assistance from a librarian
How to find and use primary sources in university archives and special collections
How to navigate the stacks
Where to find assistance with technology
After students have explored all of Hale Library's five floors in the "Choose Your Own Library Adventure" game, K-State Libraries faculty and staff will hand out snacks and give away more than 200 T-shirts.