July 29, 2014
KSU Foundation's chief investment officer named vice chair of KPERS board
Submitted by Communications and Marketing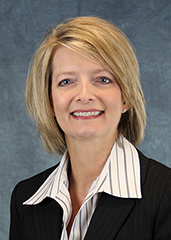 Lois Cox, chief investment officer and vice president for investments for the Kansas State University Foundation, has been named vice chair of the board of trustees for the Kansas Public Employees Retirement System, or KPERS.
Cox has been on the KPERS' board since 2012. She joined the KSU Foundation in January 2005 and has more than 25 years of investment experience. Before joining the foundation, Cox was involved in the investment management of a $1 billion portfolio at Kansas Farm Bureau and Affiliated Companies and was a principal in Farm Bureau Capital Management.
She has earned chartered financial analysis designation and is a licensed certified financial planner. She graduated with a bachelor's degree in business administration from K-State.
KPERS' board has nine trustees. Four are appointed by the governor, two are appointed by legislative leaders, two are elected by retirement system members, and one is the elected state treasurer. All serve four-year terms.
The retirement system serves members and their beneficiaries as fiduciaries, holding assets in trust for them, growing those assets through investments, and delivering promised benefits when the time comes.
KPERS provides retirement, disability and death benefits for Kansas' state and local public employees. The retirement system has 286,000 members and manages more than $16 billion in assets. The system also oversees Tandem, the state's voluntary 457(b) deferred compensation savings plan.