June 27, 2014
Master of Public Health program earns accreditation from Council on Education for Public Health
Submitted by Communications and Marketing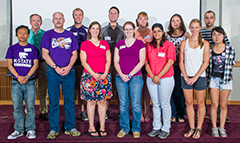 Kansas State University's Master of Public Health program has earned accreditation from the Council on Education for Public Health. The accreditation takes effect immediately.

"Accreditation is a very welcomed acknowledgement by the experts at the Council on Education for Public Health that Kansas State University has an extraordinary faculty team, which provides an outstanding combination of public health instruction, research, service, extension and workforce development," said Mike Cates, director of the Master of Public Health program.

The program now joins the University of Kansas Medical Center's Master of Public Health program as the only accredited programs in Kansas.

Approved as a new graduate program in 2003 by the Kansas Board of Regents, Kansas State University's Master of Public Health program enrolled its first students in the fall of that year. Accreditation was applied for in 2009, and during the subsequent, rigorous self-study period, the program made numerous enhancements related to academics and governance to meet the required accreditation criteria.

An interdisciplinary program, it involves partnering faculty, staff and administration from the university's Graduate School and the colleges of Agriculture, Arts & Sciences, Human Ecology and Veterinary Medicine. The program offers a Master of Public Health in four areas of emphasis: food safety and biosecurity, infectious diseases and zoonoses, public health nutrition and public health physical activity. It also offers a graduate certificate in public health core concepts.

Students in the program have come from 27 states and territories in the U.S. and 16 foreign countries. More than 70 students are currently active in the program, and it has 116 graduates now serving in many different aspects of public health at the local, state, federal and international levels.