June 30, 2014
Regina Beard completes Leadership and Career Development Program
Submitted by Sarah McGreer Hoyt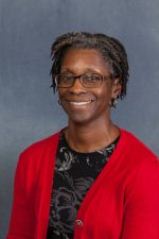 At a June 28 ceremony at the American Library Association annual conference in Las Vegas, Nevada, Regina Beard, associate professor at K-State Libraries, was recognized for completing an intensive leadership program.
Beard was one of 21 fellows selected for the 2013-2014 Leadership and Career Development Program offered by the Association of Research Libraries. The program is an 18-month program to prepare mid-career librarians from traditionally underrepresented racial and ethnic minority groups to take on increasingly demanding leadership roles in research libraries.
"Programs like these benefit not only the participants, but also their home institution and the profession at large," said dean of K-State Libraries Lori Goetsch, commending Beard's completion of the development program.
The program aims to address the need for research libraries to develop a more diverse professional workforce that can contribute to library success in serving the research, teaching and learning of increasingly diverse scholarly and learning communities.
A faculty and graduate services librarian when she began the program 18 months ago, Beard now serves as interim head of scholarly communications and publishing.
The design of the program includes three institutes: a career-coaching relationship with an Association of Research Libraries library director or senior staff member; training on identifying, developing and conducting a research project during the fellowship; online discussions and webinars related to the Association of Research Libraries strategic directions. Participants also contribute to a closing event and poster session held during American Library Association annual meeting.
The Association of Research Libraries launched the Leadership and Career Development Program in 1997. Prior to this year's class, 119 librarians have completed the program. Like Beard, a large percentage of them have either been promoted within their libraries or have assumed significantly expanded responsibilities within their institutions.