October 17, 2011
Progress update: All-University Campaign for K-State
Submitted by Susan Wolf Berhow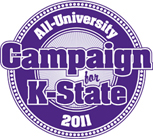 The All-University Campaign for K-State is in full swing, and we already have great news to report: Faculty and staff participation is already at 32 percent!
That's right, we're well on our way to surpassing last year's record-breaking 37 percent participation. If you haven't given yet, you can help us break records again. You can make a gift online now, or fill out the gift form included in your participation packet. Already made your gift? Check out participation stats by department here.
And don't forget about prizes. If you participate in the All-University Campaign, you are automatically entered to win fabulous prize. We'll announce prize winners for this week on the All-University Campaign's Facebook and Twitter, so be sure to follow us. Don't do social media? You can also see winners on our website.
Have you seen the All-University Campaign video? Click here to watch.