October 17, 2011
Landon Lecture: Simpson to speak about difficult decisions that lie ahead for U.S. leaders
Submitted by Communications and Marketing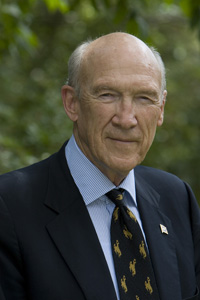 Retired lawmaker and Washington insider Alan K. Simpson has announced the topic of his Oct. 26 Landon Lecture.
He will present "The Moment of Truth: Confronting Issues in America" at 10:30 a.m. Wednesday, Oct. 26, at McCain Auditorium on the Kansas State University campus.
From his recent vantage point as the co-chair of the National Commission on Fiscal Responsibility and Reform, Simpson will provide a candid take on the tough decisions that lie ahead for America's leaders in restoring fiscal restraint to the domestic agenda. Simpson will offer his insights on what's going on in Congress and possible sensible policy options for reforming entitlements, immigration, taxes and balancing the national budget.
He also will set his sights on politics in America and the latest news from the 2012 campaign trail.
Read more about Simpson here.