October 6, 2011
Make your All-University Campaign gift and be eligible for fabulous prizes
Submitted by Susan Wolf Berhow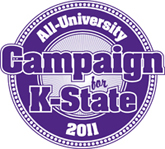 What's better than knowing you'll make a difference by participating in the All-University Campaign? Being eligible for prize drawings each week! From parking garage and rec complex passes to K-State eats to McCain tickets, you won't want to miss out on these prizes. You can see a list of prizes by week here.
To be eligible for the drawings, you must participate in the All-University Campaign sometime between now and Nov. 11. After you make your gift, your name will automatically be included in each week's drawing, so it pays to get your gift in early.
Prizes will be announced on Mondays. To be eligible for the first prize drawing, your gift needs to be processed by Friday. Short on time? Begin your gift online here. To keep up with who the winners are each week, follow us on Facebook or Twitter -- hashtag: #KStateAUC.
Questions? Contact Kim Baccus, 785-532-7584 or kimb@found.ksu.edu.