May 6, 2014
Tyler Schultz named Don and Jane Good Outstanding Senior in animal sciences and industry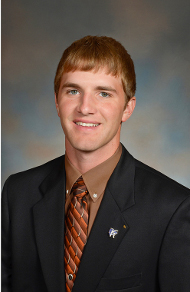 Tyler Schultz, senior in animal sciences and industry, was named the 2014 Don and Jane Good Outstanding Senior in animal sciences and industry.
Each year the department recognizes one senior based on the student's moral character, scholarly achievement, leadership skills, participation on judging teams, foreign and domestic travel, potential of contributing to humankind in the future, written and oral communication skills, and any other evidence of personal achievement.
While an undergraduate student at K-State, Schultz was a member of the 2012 Meats Judging Team, 2013 Meat Animal Evaluation Team and he represented K-State as a member of the Academic Quadrathlon Team at the National Cattlemen's Beef Association Meetings in 2014 and at the American Society of Animal Science Midwest Section meetings, also in 2014.
Schultz was active in numerous organizations, including Farm House fraternity, Collegiate Cattlemen, Junior National Hereford Association and Christian Challenge Student Ministry.
Schultz's interest in international travel led him to participate in a faculty-led agriculture tour to Brazil in 2012, the World Hereford Conference in Canada in 2012 and another upcoming faculty-led agriculture tour to England and Scotland in May 2014.
While at K-State, Schultz continued to be active with the family farming and ranching responsibilities and grow his own herd of registered polled herefords. In addition to his work commitments, Schultz was involved in philanthropic endeavors through his fraternity and church. He also volunteered with a local veterinarian back home to provide an annual free clinic for pet vaccinations.
Schultz received multiple academic and leadership scholarships, the most prestigious of which included the 2013 Roy A. Wallace Scholarship through the Beef Improvement Federation, the 2013-2014 Henry C. Gardiner Scholarship and the EE Ranches Scholarship through the Hereford Foundation. Schultz will graduate summa cum laude on May 17.
Following graduation Schultz plans to return to the family farm and ranch, Sandhill Farms, where he will make the seventh generation in his family to live and work at the farm.