April 22, 2011
Dialed in for success: Telefund raises more than $1 million in pledges for K-State's nine colleges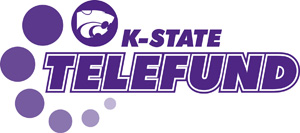 Nearly 2,400 bottles of water, 2,600 sandwiches and 3,600 cookies -- that's what it takes to fuel the Kansas State University student volunteers who make K-State Telefund a success every year. Telefund 2011 was right on track with pledges of more than $1 million from K-State alumni and friends.
K-State's 2,000 student callers received 13,000 pledges worth $1,041,057 to provide scholarships and educational benefits for K-State's nine academic colleges.

"Telefund has a long tradition of raising funds by giving students a firsthand opportunity to connect with alumni in their college and learn about how philanthropy makes a difference for K-State," said Fred Cholick, president and CEO of the Kansas State University Foundation.
Corporate sponsors for the Telefund campaign included GTM Sportswear, Perceptive Software and T2 Wireless Premium Retailer.
A student volunteer from each of the nine colleges at K-State received a $1,000 scholarship as a reward for their participation in Telefund 2011. Funding for these scholarships is provided annually by a group of Wichita-area K-State alumni. The scholarship presentation was April 16 in conjunction with K-State's All-University Open House.
Winners include: Hannah Garcia, senior in hotel and restaurant management, Augusta, College of Human Ecology; Morgan Lindsay, junior in agribusiness, Brookville, College of Agriculture; Teresa Siegele, junior in interior architecture and product design, Fredonia, College of Architecture, Planning and Design; Jamie Ball, junior in biology, Hays, College of Arts and Sciences; Joe Lohkamp, senior in mechanical engineering, Lenexa, College of Engineering; Caleb Shelton, sophomore in elementary education, Olathe, College of Education; and Tess Mast, junior in professional pilot, Wichita, K-State Salina.
From out-of-state: Celia Gaches, second-year student in veterinary medicine, Tempe, Ariz., College of Veterinary Medicine.
From out-of-country: Yang Zhou, junior in business administration, China, College of Business Administration.
K-State Telefund, a program of the Kansas State University Foundation, began in 1979 and continues to grow by making connections with alumni and friends in every Kansas county and all 50 states, as well as Canada, Guam and Puerto Rico.
Philanthropic contributions to K-State are coordinated by the Kansas State University Foundation. The foundation staff works with university partners to build lifelong relationships with alumni, friends, faculty, staff and students through involvement and investment in the university.