April 22, 2011
Faculty/staff discounts to 'Brighton Beach Memoirs' by Neil Simon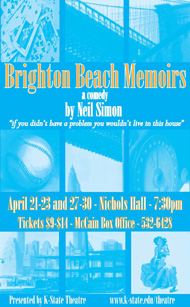 Faculty, staff and their guests may receive $2 off the regular ticket price for K-State Theatre's production of the Neil Simon comedy, "Brighton Beach Memoirs," at 7:30 p.m. Friday, April 29 in Nichols Theatre.
No coupon is necessary; just mention that you're a K-State faculty or staff member. Call 532-6428 for tickets or visit the McCain Box Auditorium box office. The box office is open from 11:30 a.m. to 4:30 p.m. weekdays. Visit K-State Theatre for more information on the play.
"Brighton Beach Memoirs" is the first play in Simon's autobiographical trilogy. The comedic play portrays the playwright as a teenager, Eugene, who lives with his family of seven in an overly-crowded, lower middle-class home in Brooklyn in the 1930s.