April 28, 2014
College of Education launches student research journal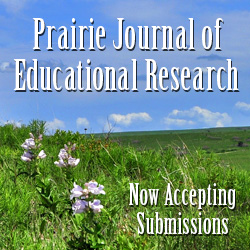 The College of Education launched a new research journal designed to expose graduate and undergraduate students to the rigors of academic publishing.
Prairie Journal of Educational Research is an online, open access journal, and there is no charge for submissions. The college partnered with the K-State Libraries' New Prairie Press, the university's home for open access publishing.
The journal's editor-in-chief is Linda P. Thurston, associate dean for research and external funding for the College of Education. Managing editors are Haley Downing and Paul Maxfield, graduate students in the special education, counseling and student affairs department.
"We have been working on this concept for almost a year," Thurston said. "Haley and Paul did a lot of basic research about appropriate platform, journal format, other student journals, even the title. Then we created an editorial advisory board of faculty and students to discuss the vision, the design and the editorial process."
Thurston said the journal would serve many purposes.
"This endeavor relates to our college's 2025 goals," she said. "The journal is one way to involve undergraduates in research and help graduate students learn the process of submitting manuscripts and reviewing manuscripts of others. We also want to communicate to our students that doing educational research is for all educators. Whether it's action research when you are a teacher in classroom or whether it's being a professor or a doctoral student who's doing experimental research, it's just part of what educators do."
Maxfield said one of the publication's goals is to spotlight the research being done by education undergraduate and graduate students.
"We wanted to have a journal that supports students in the publication and review process," he said. "We'd like to give them supportive and constructive feedback."
Downing is confident they have chosen the appropriate platform and the right partner.
"Because the journal will be free and freely accessible to anyone, it was a perfect fit with New Prairie Press since they are advocates for open access. It was a good partnership."
The journal will be peer reviewed, with initial reviewers being faculty and students in the college. Undergraduate and graduate students will be mentored in the review process, and Downing and Maxfield are developing training for journal reviewers.
The editorial staff expects the first journal to be published in fall 2014.
Members of the Editorial Advisory Board are:
Mike Holen, dean emeritus and professor
Lori Goodson, assistant professor of curriculum and instruction
Kakali Bhattacharya, associate professor of educational leadership
Lori Andersen, assistant professor of curriculum and instruction
Morgan Chesbro, graduate student in curriculum and instruction
Amanda Lickteig, graduate student in curriculum and instruction
Ashley Gleiman, graduate student in adult and continuing education
Madison Johnson, undergraduate student majoring in elementary education