April 28, 2014
Several K-State Libraries employees recognized for excellence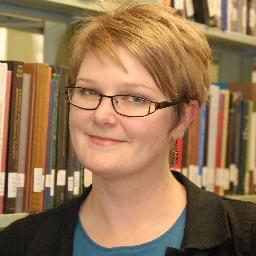 K-State Libraries honored several employees for outstanding contributions at its annual recognition ceremony on March 25.
Lori Goetsch, dean of Libraries, said, "It's a joy to recognize the talent that enabled the many successes we experienced over the last year, from the libraries' contributions to the sesquicentennial celebration to the completion of major digital and technical projects. I'd like to extend congratulations to the three winners and to all who were nominated."

Joelle Pitts, instructional design librarian, was honored as this year's recipient of the Brice G. Hobrock Distinguished Faculty Award. Annually, the award recognizes outstanding librarianship and superior accomplishments among the K-State Libraries faculty.
Pitts's current research interests include the creation of digital learning environments and objects to support library instruction and reference. She leads the New Literacy Alliance, a consortia of Kansas university libraries working together to construct "flipped classroom" online environments for high-impact undergraduate courses. She received her bachelor's degree from Colorado State University and a master's degree in library science from Emporia State University.
Nominees for the Hobrock Award are evaluated based on their professional activities during the last two years. Pitts's nominator indicated that her "commitment to the K-State faculty, staff and students stands out in her role creating the 'Ready Player One' alternate reality game and her collaborative efforts with the K-State Salina librarians."

Renee Gates, applications specialist, was selected from among the six nominees for the Dean's Award, which recognizes a non-tenure track unclassified professional's contributions to K-State Libraries in the previous two academic years.
Gates was commended for her management of the migration of the Libraries' email system from Zimbra to Office 365. Her nominator said, "Renee displayed superior organizational skills during the successful migration to Office 365." She also served on the recruitment team providing technical insight for IT positions and chaired two search committees.

Cindy Von Elling, library assistant II, was chosen as the 2014 Classified Employee of the Year. This award recognizes a classified employee's special contributions, dedication to daily tasks and ability to work successfully across the organization.
According to her nominator, "Cindy is an unsung hero of K-State's Sesquicentennial celebration. She prepared more than 500 publication-ready images for 'Generations of Success: A Photographic History of Kansas State University, 1863-2013.' She also accommodated numerous requests from campus researchers. In all of her work, Cindy was conscientious, thorough, flexible and epitomized excellent public service."
Each winner receives a monetary prize, and their names are added to award plaques in K-State Libraries. The Brice G. Hobrock Distinguished Faculty Award was established by the Friends of K-State Libraries to honor Dean Emeritus Hobrock upon his retirement in 2004. Both the Hobrock Award and the Classified Employee of the Year award are funded through the Friends of the K-State Libraries.