April 13, 2011
New university archivist for K-State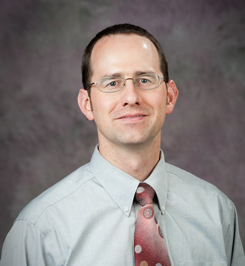 Following last year's reorganization, K-State Libraries has hired Cliff Hight as the new university archivist. Hight replaces Tony Crawford, K-State's longtime university archivist, who is moving into a new full-time role as curator of manuscripts.
Hight comes to K-State from the Royal Gorge Regional Museum and History Center in Cañon City, Colo., where he was the archivist/curator. He holds degrees from Weber State University and University at Albany, State University of New York, and interned and worked at the National Baseball Hall of Fame.

As the university archivist, Hight will be responsible for maintenance and preservation of all university records, including electronic records.
"Developing an effective way to handle electronic records in the archives is a large part of what attracted me to the position at K-State Libraries," Hight said. "It's still a bit of a struggle in the archives profession, and I'm excited to work through this process from the beginning."

"We're happy to welcome Cliff to the K-State Libraries as our new archivist," said Lori A. Goetsch, dean of Libraries. "He represents a strong addition to our faculty, and splitting the archivist and curator responsibilities into two positions allows us to explore many new projects."

Hight comes to Manhattan with his wife and four children.