April 7, 2014
Kansas State University Salina's Blanks nominated for international unmanned vehicle systems board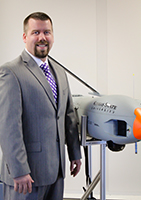 Kansas State University Salina's unmanned aircraft systems program continues to garner prestige with a new accolade for one of its staff members. Mark Blanks, program manager, has been named a nominee for the Association for Unmanned Vehicle Systems International, or AUVSI, board of directors.
The association is the world's largest nonprofit organization devoted exclusively to advancing the unmanned systems and robotics community through education, advocacy and leadership. This is the first time someone from this region of the country has been nominated, with Blanks vying for an academia position on the board.
"I am honored to be nominated and I believe this represents how Kansas State University Salina has become a leading institution for unmanned aircraft systems education and research," Blanks said. "The university's strength in applied research and operational experience with civilian applications of unmanned aircraft systems, or UAS, would bring great value to the board and I hope to have the opportunity to serve the UAS community in this way."
As an elected member of the board, Blanks would be responsible for collaborating with other members to determine the association's strategic direction and goals, set policies for the conduct of its business and approve budgets and monitor finances, with an overall goal of representing the interests of the association's global membership.
"Mark would make an excellent choice for the AUVSI board of directors," said Kurt Barnhart, aviation department head and executive director of the Applied Aviation Research Center at K-State Salina. "He is well-connected and respected in the UAS industry, and has the savvy to do well in this role."
Before coming to K-State Salina in January 2013, Blanks was the interim director of the Middle Tennessee State University unmanned aircraft systems program in 2012 and was instrumental in forming that program while working as an aviation maintenance instructor at the school. Currently, Blanks also serves as the chair for the ASTM F38-02 subcommittee on unmanned aircraft systems flight operations and is actively involved in research to support the integration of unmanned aircraft systems into the national airspace system.
"I am delighted that K-State Salina has someone like Mark representing our university," said Verna Fitzsimmons, CEO and dean of Kansas State University Salina. "He is a strong advocate for our UAS program, educating our community on the many uses for this technology and building partnerships with some of the most prominent UAS organizations and industries, such as the FAA and AUVSI. He would be a vital addition to the academia position on their board."
Elected board members will be announced at the Association for Unmanned Vehicle Systems International yearly conference and trade show in Florida in May.