March 26, 2014
24th annual Libraries Gala April 11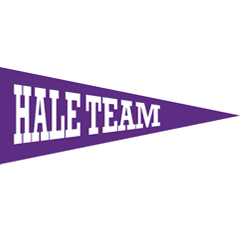 Together with honorary co-chairs, Bruce and Megan Weber, The Friends of the K-State Libraries is hosting "Hale Team: Faithful to Our Colors" on Friday, April 11.
This special event will be in the historic Farrell Library Great Room at Hale Library. The event will celebrate the continued partnership between K-State Libraries and K-State Athletics, which includes the Academic Learning Center on the fourth floor of Hale Library.
This upscale tailgate promises to be a fun and lively evening with themed food, drinks and entertainment. The event will include entertainment from K-State student-athletes, games, photo booth, complimentary wine and Tallgrass Brewing Co. beer, themed food stations, dancing and much more. Come casual this year as formal dress is not required, only purple pride. A limited number of individual tickets are now available online.
This event is the primary fundraiser for the friends organization. In addition to supporting the group, a portion of the proceeds will support upgrades to instructional space shared by K-State Libraries and the Academic Learning Center. Student-athletes use this space for tutoring and study. The center has called Hale Library home for 15 years and it is an example of one of the many ways the libraries and athletics have worked together to support students. The classrooms that will benefit from these upgrades hold instruction for both the larger student body as well as our student athletes.
For more information about Hale Team visit our website or contact Darchelle Martin.