March 5, 2014
K-State Book Network 2014 book to launch Tuesday, March 11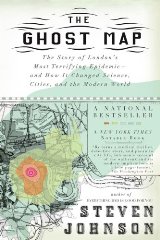 "This is a story with four protagonists: a deadly bacterium, a vast city, and two gifted but very different men…."
So begins the story of Steven Johnson's best-selling book, "The Ghost Map: The Story of London's Most Terrifying Epidemic — and How It Changed Science, Cities, and the Modern World."
This story is the K-State Book Network's selection for 2014.
On Tuesday, March 11, the K-State Book Network will sponsor a book launch in honor of the 2014 book selection. The launch will begin at 11 a.m. in the K-State Student Union courtyard and conclude by 11:30 a.m.
The launch will begin with brief remarks by K-State Book Network chair Tara Coleman and Steve Dandaneau, vice provost for undergraduate studies. Book Selection Committee member Dave Rintoul, associate director and associate professor of biology, and student representatives will then introduce the 2014 K-State Book Network selection to the campus community. The K-State Book Network committee also will present awards to students and faculty to recognize their inclusion of Ernest Cline's "Ready Player One" in fall 2013 classes and programming.
The launch will conclude with a free raffle drawing for copies of Johnson's book for those in attendance.
For more information about K-State Book Network and the 2014 book selection, visit http://www.k-state.edu/ksbn/.