October 20, 2011
K-State Book Network announces student, faculty/staff awards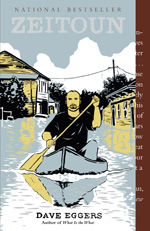 The K-State Book Network announces two award opportunties: one for students and one for faculty/staff.
The K-State Book Network invites students to tell a true story of an encounter with a natural disaster, either from personal experience or an account of someone else's experience. The true story can be told through a nonfiction prose memoir — like Dave Eggers's "Zeitoun" — or through music, video, visual art, (filmed) performance art, or some other medium. The contest is open to all Kansas State University students; the first-prize winner will receive a $150 book scholarship. For submission procedures, see http://www.k-state.edu/ksbn/contest.html.
The K-State Book Network also seeks nominations for faculty or staff members who have demonstrated enthusiasm and creativity in conducting learning activities related to this year's common reading selection, "Zeitoun." One outstanding faculty or staff member will be selected based on three criteria: creative application of theme(s) from the book; engagement of students in program, project, or activity; and demonstrated enthusiasm for enhancing the educational experience at K-State. For nomination procedures, see http://www.k-state.edu/ksbn/award.html.
Winners of both awards will be recongized at a special KSBN event at the end of the fall semester. Entries are due by Nov. 6 to ksbn@k-state.edu.