January 29, 2014
Letter from A.D. John Currie: Packed weekend for athletics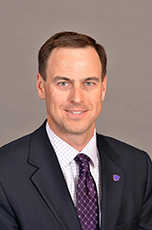 We have a busy week ahead of us that began with last night's key Big 12 men's basketball matchup with Texas Tech. Just like the men, the Big 12 is the No. 1 RPI conference in the nation for women's basketball. Coach Patterson and our women's team will host Oklahoma at 7 p.m. inside Bramlage on National Girls and Women in Sports Day. Tickets are still available for the contest, which will also be broadcast live on FOX Sports Kansas City. Come on out and pack Bramlage with purple in support of our women's squad!
Competition picks up this weekend
The spring semester will be in full swing this weekend as six of our teams will be in action. The women's tennis squad will host two indoor matches at Body First Tennis and Fitness Center beginning Friday at 1 p.m. against Northern Iowa. Coach Bietau and the No. 55 Cats will then host Liberty at 12 p.m. Saturday. Both matches are FREE and open to the public. The track and field squads, fresh off a big home meet at Ahearn Field House, head to Ames, Iowa, for the weekend, while our No. 5 equestrian team will open the spring season Saturday in Brookings, S.D., against South Dakota State and Fresno State. Both basketball teams will be on the road on Saturday as the men head to West Virginia (12:30 p.m. on Big 12 Network) and the women play at Iowa State later that evening (8 p.m.). Best of luck to all of our teams in action and be sure and check
k-statesports.com
throughout the weekend for results, recaps and highlights.
K-State places 260 on fall Big 12 Academic Honor Roll
While we root for our student-athletes and teams to perform at a championship level on the playing field, we are even more proud of their accomplishments in the classroom and community. Last week, 260 of our student-athletes were recognized as members of the Big 12 Fall Commissioner's Honor for earning a 3.0 or higher GPA during the season – an increase of 24 from last spring and the most in more than five years overall. Of those 260 student-athletes, 46 registered a perfect 4.0 this fall! We are proud of all these student-athletes and the commitment they have made to both academic and athletic excellence.
Read our full press release
- note the names of the 4.0 student-athletes and the large percentage of each team's roster on the list!
Performance table opens to rave reviews
Last week was special for our student-athletes as our new Performance Table officially opened its doors, and the early returns have been overwhelmingly positive. I received many emails and tweets from both student-athletes and family members regarding the first-class experience all 450 of our student-athletes had in the facility. Ross Kivett, 2013 Big 12 Baseball Player of the Year, sent this tweet out after his first meal in the facility:
"Felt like a big leaguer at the new training table!"
In addition, track and field student-athlete Ryan Hershberger's mother Janice (also a K-State graduate) sent the following note:
"I want to very sincerely thank you for making the training table available to all student-athletes. Our son will benefit from this in several ways--his nutrition will be improved, it will help him save time and energy by not having to cook for himself, and it will help him financially by having a controlled cost for his dinner.For at least 35 years I have wished for a training table for track athletes at KSU. While I am sorry that Ryan will benefit only in his last semester, I am resolved to be happy for future track athletes. I am so thankful."
Thanks to the efforts of many, including Michelle Sullivan, the Performance Table manager, Executive Chef Michael Moyes, and Sports Nutritionist Scott Trausch, the staff can help the student-athletes lead a healthy lifestyle while meeting their sports-specific nutritional goals. This transformational facility will be a difference maker for all of our programs!
Check out our video recap of the official opening
.
That will do it for today. We look forward to a packed Bramlage tonight, and we'll see you this weekend for another busy and exciting Wildcat Weekend!
Go Cats!
John Currie