December 5, 2013
Basketball hosts Ole Miss tonight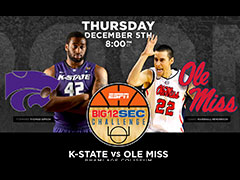 Your defending Big 12 Champion K-State basketball team hosts the SEC tournament champion Ole Miss Rebels at 8 p.m. tonight in Bramlage Coliseum as part of the Big 12-SEC Challenge. Tickets start at $25 or $75 for a Wildcat 4 Pack.
Click here for a message from student-athletes Thomas Gipson and Marcus Foster.
To purchase tickets, click here or call 1-800-221-CATS.