TLC Bi-Weekly Newsletter for Tuesday, September 1st, 2020
Good morning, K-State!
Times have changed and new challenges have emerged, but that does not diminish our commitment to supporting your efforts in teaching, mentoring, and advising. We at the Teaching & Learning Center (TLC) are excited to launch a new year of priorities, events, and resources to advance teaching and learning at K-State!
Click HERE to see what the TLC can do for you!
Below is an overview of what you can look forward to this year:
TLC Professional Development Series
We are offering a professional development series to provide experiences, information, resources, and networking to help faculty, staff, and graduate students improve their craft in teaching, mentoring, and advising in many ways. Our theme for the year is "Caring, Connections, and Community," and we will offer events throughout the academic year that delve into many domains of teaching and learning.
We have already offered two events this semester! Over 80 people have attended synchronously, and over 40 people have attended asynchronously. Of those total attendees, 65 were unique attendees.
Please email us (teachingandlearning@k-state.edu) if you would like an invitation to our TLC Professional Development Series Canvas Page. This will provide access to the videos of our professional development events, information about our Professional Development Series, and provide a forum for discussing topics related to teaching and learning.
Our events will be held over Zoom on Wednesdays at 12 noon.
The Zoom link to our events is: https://ksu.zoom.us/j/93106034653
Our events will be cataloged on our Canvas page for those who cannot attend the Zoom meetings in real time to view at your convenience.
To earn credit for participating in each event (either synchronously or asynchronously), please complete our post-event survey (https://kstate.qualtrics.com/jfe/form/SV_0Up9QmkrCcN1PUh) and indicate which event you are trying to earn credit for where appropriate.
You will have the opportunity to earn a TLC Professional Development Certificate or be selected as a TLC Fellow as a result of your participation in this series. Click HERE for more details about how to earn our professional development certificate as well as how to become a TLC Fellow.
Collaborations to Support Social Justice at K-State
Not only will we be offering events to promote social justice, diversity, and inclusion, but we will also partner with other offices on campus to offer events and resources to provide antiracism training and to lead difficult dialogues. Stay tuned!
K-State New Faculty Institute (NFI)
NFI is a program for newly hired faculty members at Kansas State University. All sessions provide an opportunity for networking, relationship-building, and professional development. Below are some upcoming NFI events!
Time with Provost Charles Taber & Networking
Wednesday, September 23 - 3:30-5:00pm
Zoom: https://ksu.zoom.us/j/95926875006
New faculty are invited to spend time with Provost Charles Taber, Kansas State University's chief academic officer and executive vice president. Provost Taber will share information about himself and the work he does, provide an overview of the organizational structure of the university and the role of faculty, and updates related to K-State. This is an excellent opportunity to interact and ask questions. Following his presentation, we will engage in casual networking from 4:30-5:00pm.
Add this event to your calendar and RSVP by Wednesday, September 23 at noon.
What do K-State students need from faculty?
Tuesday, October 27 - 3:30-5:00pm
Zoom: https://ksu.zoom.us/j/98536057239
This session will be an opportunity to engage with current students to address the following questions (and more!): - How do we increase engagement and participation in the classroom? - How do students like to use technology while learning? - How do you become a teacher that students love to learn from? - How do we get buy-in from students in class? And get past the "what's on the test" mentality? - How do we collaborate with our students in the learning process? - What challenges and opportunities do students face today?
Add this event to your calendar and RSVP by Tuesday, October 27 at noon.
If you have any questions about the NFI, please contact Tamara Bauer (tamara@ksu.edu).
Celebration of Teaching
We will celebrate teaching and teaching-related activities often! Each month we will collect nominations for TLC Twitter Teachers of the Month (get ready to nominate your favorite teacher in September), we will discover and showcase great teachers across K-State and their philosophies and practices, and highlight K-Staters' achievements in their scholarship of teaching and learning (SoTL).
Please click here to nominate someone you would like us to recognize for their contributions to teaching and learning at K-State this month.
TLC Highlighted Teacher September 2020
In each newsletter we will feature a K-Stater who is doing something special related to teaching and learning. This time, our TLC Highlighted Teacher is Laura Kanost.
I'm Laura Kanost and I'm a professor of Spanish, and I mainly teach literature and translation. No matter what class I'm teaching, my approach is to guide communities of students through experiences that develop their ability to think critically and communicate in culturally diverse environments. For this to be possible, I work to create a situation in my classroom where each person feels respected and valued, and I incorporate community engagement. Even though I've been teaching at K-State for 12 years now and have taught some courses numerous times, my job never gets old because the people and the circumstances are always changing.
Click HERE to view a video of Laura and her teaching.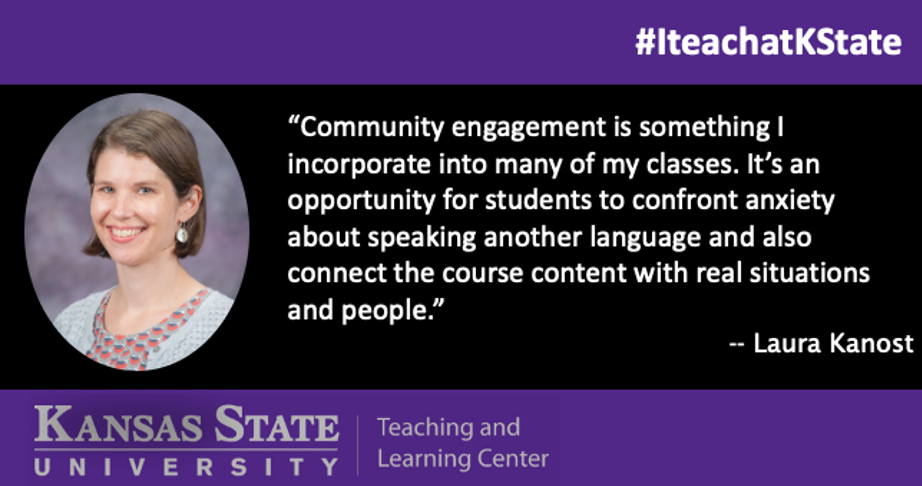 Remote Teaching "Fails" video series
Sometimes, despite our best efforts, teaching remotely/online does not do as planned. This is normal, and sometimes hilarious. We are working on a video series on remote teaching "fails" to normalize that we are not perfect in these modalities. Life (in all its forms) and our own humanity get in the way - and this is okay!
Would you be willing to film a short video discussing some (ideally funny!) story when something went differently than you planned while teaching remotely/online? If so, please contact us with your idea!
Here is Daniel Kuester (Economics) sharing his "fail": https://youtu.be/RCdA0h-N1tE
ICYMI – Teachers Thriving Remotely video series!
In case you missed it, we created a video series of K-Staters doing amazing things in the teaching, mentoring, and advising last Spring. Click HERE to see our previous videos – they may give you some ideas if you are teaching in online/remote modalities this Fall!
Social Media and Newsletter Updates
In addition to our bi-weekly newsletter in K-State Today, we are committed to maintaining an active social media presence through which we describe upcoming events about teaching and learning, programs, resources, etc. Like us on Facebook, follow us on Instagram and Twitter, and subscribe to our YouTube channel!
Our hashtag is: #ITeachAtKState
Please use it when you post about your teaching, mentoring, and advising activities!
We look forward to this exciting year as we advance K-State's teaching and learning mission, as always, with energy and optimism! We are proud to say that, "I teach at K-State!"
#ITeachAtKState
Sincerely,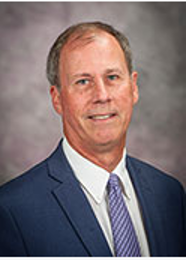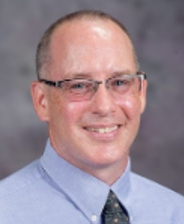 Brian Niehoff Don Saucier
Director, Teaching & Learning Center Associate Director, Teaching & Learning Center
Upcoming Events
Need-to-Know Events (NTK):
Need-to-Know events (NTKs) are professional development opportunities designed to address topics and issues that are relevant for all teachers, mentors, and advisors.
General Professional Development Events (GPD):
General professional development events (GPDs) are designed to cover special topics and supplement our Need-to-Know events.
Teaching Chats (CHAT):
Teaching Chats (CHATs) are open forums wherein faculty, staff, and graduate students are invited to voice concerns about what they are currently experiencing in their classes. These sessions are intended to be broad, discussion-based sessions during which the K-State community can crowdsource potential solutions. CHATs do not count toward the requirements/expectations for the TLC Professional Development certificate.
• "PowerPoint can do that!?! Free and Familiar Tools to Wow your Online Class" (GPD)
• CHAT
• "Social Justice in Teaching" (NTK)
• TBD (GPD)
• "How We Follow Through on the Promise of Support" (NTK)
• "Accommodating Students and Providing Access for All During COVID-19" (NTK)
• "Teaching Resilience in the Classroom" (GPD)
• CHAT
• "Introducing PORTFOLIUM: newly added portfolio system in CANVAS at no cost to the program" (GPD)
• "Maintaining Academic Integrity in All Classroom Environments" (NTK)
• "Engaging and Supporting First-Generation Students: A Multi-Modal Approach" (GPD)
• TBD (NTK)
• TBD (GPD)
• CHAT
Upcoming Award Deadlines:
Nominations for TLC Twitter Teachers of the Month for September are due by 11:59PM on September 30st!