TLC Newsletter for Wednesday April 8, 2020
Good morning, K-State!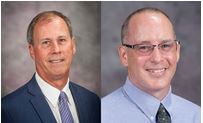 We hope your third week of remote teaching is going well! Here is an update about what is going on in the Teaching & Learning Center (TLC):
Keep Teaching!
Changing how we deliver our courses may take many of us out of our comfort zones. It may cause us to prioritize certain course objectives and assignments. It may cause us to consider different ways to assess our students' learning. It may take more time and effort than we anticipated. The information we provide will connect you to resources, and people, here at K-State to help you continue to teach during a possible disruption.
The resources on this website, including more information about tools such as K-State Canvas, Zoom, Mediasite, and Office 365, will offer ideas and strategies for how to engage students in quality remote learning experiences with minimal preparations. This will help you plan efficient ways to keep teaching your courses during an impending disruption.
Click HERE to access the K-State "Keep Teaching" Page
Best Practices in Zoom
In the past week, there has been a lot of news coverage regarding Zoom and security. Zoom is considered a best-in-class web conferencing platform because of its ease of use, cross-platform availability, and full features, including chat, screen sharing, recording, audio transcription, and being device-agnostic.
There was an article this week in the K-State Today regarding important Zoom security features and best practices. Click here to read the full announcement.
Teachers Thriving Remotely Series
We have a real opportunity to advance to the next stage of K-State's transition to remote teaching. We have been in a coping phase where our messages have been about providing information and reassurance, but now is the time to move toward an inspirational phase where our messages are about thriving.
Toward that end, the TLC has developed a "Teachers Thriving Remotely" series that depicts brief videos by excellent K-State instructors. These videos contain energetic, optimistic, and hopeful messages as well as a brief overview of specific teaching ideas, philosophies, or practices that you may consider using in these challenging times. Below is a list of individuals who have already contributed to this series.
If you know someone who you think should be featured in this series, please email the Teaching and Learning Center (teachingandlearning@k-state.edu) and let us know.
Difficult Dialogues
In collaboration with the Dow Center for Multicultural and Community Studies and the K-State Teaching and Learning Center, we are pleased to announce our next session of the Difficult Dialogues series. Difficult Dialogues was created to help faculty make progress on their knowledge and skill in facilitating difficult conversations in the classroom when difficult or challenging topics arise. This series covers topics such as mental health, race and ethnicity, gender sexual orientation and identity, political divide/current events. Faculty are invited to join us for these active sessions that will enhance their skills to facilitate a discussion on a controversial topic.
Most of our events are available on Canvas for you to watch at your convenience!
Thursday, April 23, 2020 via Zoom, 2:00pm-4:00pm (Link will be sent to registered participants)

"Encouraging Empathy to Promote Diversity and Inclusion" - Dr. Don Saucier and Tess Hobson
In this webinar, we will discuss how instructors can use the structure and activities in our classes, especially, but not only, as majority group instructors teaching primarily majority group students, to foster empathy for ourselves and our students to issues related to diversity and inclusion. We will discuss how we can encourage our students to contribute to progress toward the solution to social issues of inequity and injustice, rather than contributing to the problem. We will begin our webinar by discussing ways to manage class discussion by setting the rules of engagement and helping students see the value in diversity and inclusion. We will then discuss ways to help foster students' awareness of their own privilege in open dialogues using stories. We will provide the participants in our webinar with opportunities to ask questions and offer their perspectives on encouraging empathy in our classes.
Update on our TLC Professional Development Series!
Despite our TLC Professional Development Series being temporarily suspended due to the COVID-19 pandemic, you still have the opportunity to earn our professional development certificate.

For Graduate Students Pursuing this Certificate:

You must (a) have attended and completed post-event surveys for at least 10 events sponsored by the Teaching and Learning Center and (b) complete the observation component (more information on this is available on our "GTA PD Series" Canvas page) by 11:59PM on April 30th. If you did not yet complete the observation component with a colleague prior to K-State's transition to remote learning, you can still complete this requirement in a remote setting by sharing a link of you teaching and/or allowing a colleague to join a Zoom session of you teaching.

For Faculty and Staff Pursuing this Certificate:

You must earn twelve (12) event credits by participating in various events over the course of the academic year. However, at least four (4) of your twelve (12) event credits must be earned by participating in events in this series designated as "Need to Know" events. Attendance at the Faculty Exchange for Teaching Excellence (FETE) Teaching Retreat and/or Spotlight will count for more than one (1) event credit. You must document your participation and earn event credits by completing our post-event survey for each event in which you participate. After earning your twelve (12) total event credits (from the TLC Professional Development Series, the "Need to Know" events, Spotlight, and the Teaching Retreat), you will complete a Final Reflection of your experience. Guidelines for Final Reflections are available upon request (email Tucker Jones at tucker@ksu.edu) and the deadline for your submission of Post-Event Surveys and Final Reflections is Friday, May 1st, 2020.

For Faculty and Staff Interested in Becoming a TLC Fellow:

Being selected as a TLC Fellow demonstrates your commitment not only to improving your own excellence in teaching and learning, but to improving the teaching and learning excellence of others. To be selected as a TLC Fellow, you will complete the requirements for the TLC Professional Development Certificate as described above. You also will submit a TLC Fellow Application on which you summarize your efforts to improve the teaching and learning climate at Kansas State University and beyond (email Tucker Jones at tucker@ksu.edu for a copy of this application). These efforts may include having given presentations or workshops on teaching and learning topics, engaging in the scholarship on teaching and learning (SoTL), etc. You will also provide an abstract for a workshop/presentation on a teaching and learning topic that, if selected as a TLC Fellow, you would like to offer as a professional development event next year. The forms you will complete to become a TLC Fellow are due by Friday May 1st, 2020.

Additional Information For Everyone:
If you have not attended the required number of events, you can access an archive of this school year's events (as well as the corresponding post-event survey) on our "TLC Professional Development Events" Canvas page. Please email us (teachingandlearning@k-state.edu) if you would like an invitation to our TLC Professional Development Series Canvas Page. This will provide access to the videos of our professional development events, information about our Professional Development Series, and provide a forum for discussing topics related to teaching and learning.

Please email completed forms/applications to Tucker Jones (tuckerj@ksu.edu).
TLC Canvas Discussion of the Week
Our discussion question of the week is:
What has been your most challenging experience with teaching remotely?
Let us know if you have other questions you would like us to post.
Call for TLC Twitter Teachers for April
Each month we will collect nominations for TLC Twitter Teachers of the Month. Please click here to nominate someone you would like us to recognize for their contributions to teaching and learning at K-State this month.
We look forward to continuing this exciting year! #ITeachAtKState
Sincerely,
Brian Niehoff
Director, Teaching & Learning Center
Don Saucier
Associate Director, Teaching & Learning Center
Like us on Facebook and follow us on Instagram and Twitter! We will be using this hashtag to identify our posts – please use it as well when you post about your teaching, mentoring, and advising activities:
Upcoming Events Related to Teaching and Learning:
Difficult Dialogues
Thursday, April 23, 2020 via Zoom, 2:00pm-4:00pm (Link will be sent to registered participants)

"Encouraging Empathy to Promote Diversity and Inclusion" - Dr. Don Saucier and Tess Hobson
Upcoming Award Deadlines & Requests for Proposals:
In FY 2021 Global Campus will provide two funding cycles, one in the spring and one in the fall. The updated format will provide flexibility and accelerate project development. Priority is given to proposals that:

Revise existing and develop new, student-focused programs or courses
Reduce course gaps in online curricula or time to degree
Focus on learner-centered scheduling (accelerated courses and multiple start dates during a year)
Promote interdisciplinary approaches
Expand learning opportunities in areas of university strength
Click HERE for more information on the Global Campus Development Grants.