Welcome to Sigma Xi - Kansas State University Chapter
Sigma Xi was founded in 1886 to honor excellence in scientific investigation and encourage a sense of companionship and cooperation among researchers in all fields of science and engineering. The Greek letters "sigma" and "xi" form the acronym of the Society's motto, "Spoudon Xynones," which translates as "Companions in Zealous Research.

Check out the new Meet Sigma Xi video! Click here
Science Cafe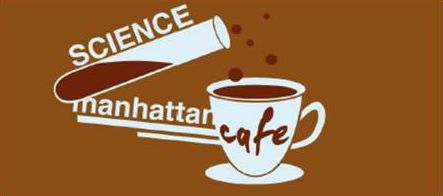 There will be no Science Cafe in November so that everyone will have the opportunity to attend the Diversity Lecture

November 12th @ 7:00 p.m.
Radina's Coffeehouse and Roastery - Aggieville
616 N. Manhattan Ave.


Recent Activities
2019 K-State Sigma Xi Distinguished Lecture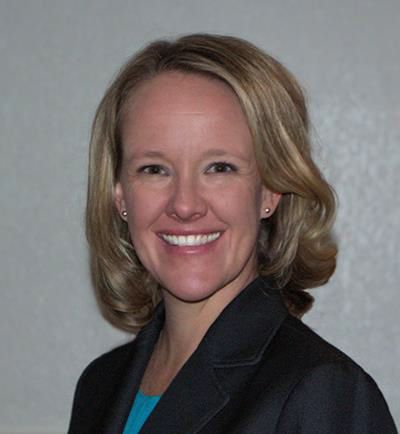 Dr. Kristen Averyt of the American Meteorological Society and President of the Desert Research Institute presented the 2019 K-State Sigma Xi Chapter's Distinguished Lecture "Climate and the Energy - Water Nexus"
| | |
| --- | --- |
| | |
| Doug Jardine confers with fellow poster judge, LSU agronomist Lauren Lazaro, at the Sigma Xi Student Research Conference in Burlingame, CA. | Newest K-State Sigma Xi member James Guinnip, PhD student (Walter Dodds) in Biology |
2018 K-State Sigma Xi Distinguished Lecture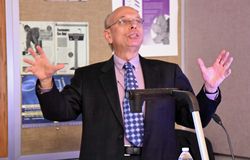 Dr. Greg Forbes, Severe Weather Expert for The Weather Channel, presented the 2018 K-State Sigma Xi Chapter's Distinguished Lecture "Severe Thunderstorms and Tornadoes - Understanding Them and Staying Safe."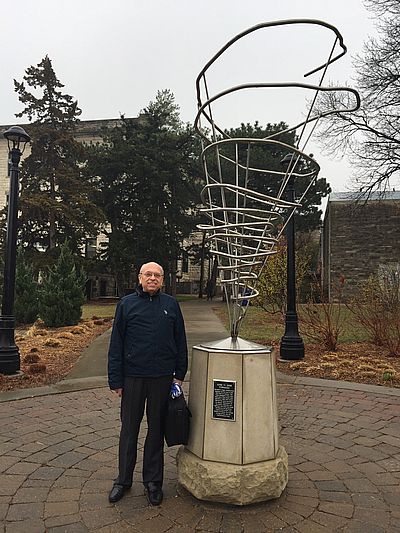 While at K-State, Dr. Forbes visited the 2008 Tornado Memorial
2018 Grants-in-Aid of Research Winner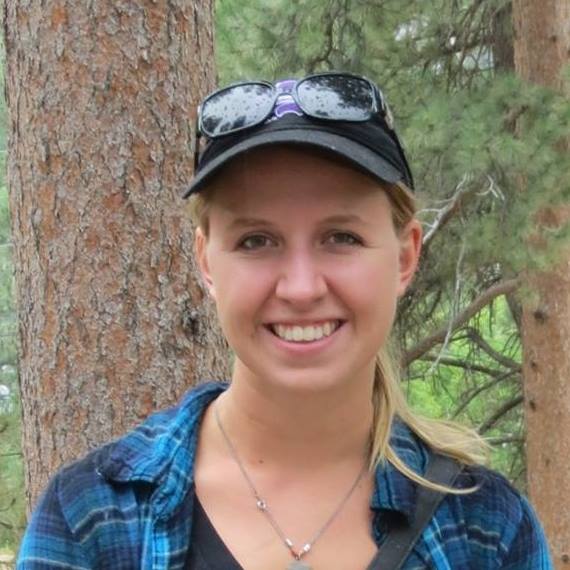 Congratulations to Sarah Winnicki, recipient of a $1,000 Grants-in-Aid of Research from Sigma Xi for her proposal: Aggregation of Grasshopper Sparrow (Ammodramus savannarum) territories: a test of the kinship hypothesis. Sarah works in the laboratory of Dr. W. Alice Boyle.
K-State Sigma Xi Outstanding Scientist Lecture

Dr. Loretta Johnson delivered the 2018 Kansas State Chapter Outstanding Scientist Lecture on "Linking ecology and genomics in a dominant prairie grass across the Great Plains climate gradient.." Dr. Johnson is in the Division of Biology and is the Co-director of the Ecological Genomics Institute.
---
Excellence in Secondary School Science Teaching Award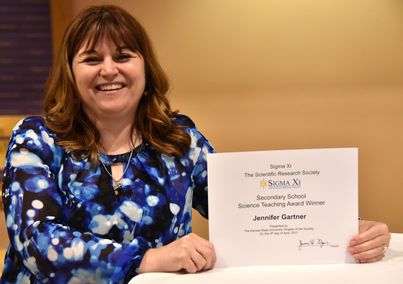 Jenny Gartner teaches chemistry, physics and AP chemistry at Labette County High School. As an influential force in multiple students' lives, Jenny has directed students to appropriate STEM related careers. Her classes involve hands on learning with awesome equipment such as white board tables and 3D printers which she obtained through grants.
Sigma Xi Annual Meeting & Student Research Conference - See more at: https://www.sigmaxi.org/meetings-events/annual-meeting#sthash.aecAfLXt.dpuf
Sigma Xi Annual Meeting & Student Research Conference - See more at: https://www.sigmaxi.org/meetings-events/annual-meeting#sthash.aecAfLXt.dpuf
Sigma Xi Annual Meeting & Student Research Conference - See more at: https://www.sigmaxi.org/meetings-events/annual-meeting#sthash.aecAfLXt.dpuf