Certificates
The Anthropology program houses exciting new interdisciplinary certificates in Global Health Medicine, and Society as well as Religious Studies. See the information below, and call the main SASW office (785-532-6865) to make an appointment with our professional advisors to get signed-up.
Are you fascinated with interdisciplinary perspectives on medicine, health, and healing across culture, time, and place? Are you interested in understanding the various social forces that affect human health and diseases, and our responses to them? Are you interested in medical anthropology, the medical humanities, and/or medical ethics?
This new certificate offers students the opportunity to study health and medicine in the era of globalization from a social scientific and humanistic perspective. The interdisciplinary Global Health, Medicine, and Society certificate invites students to think broadly about the health cultures, philosophies, and practices around the world (including in the United States, of course)!
Learn more about the Global Health, Medicine, and Society Certificate
The certificate in Global Health, Medicine, and Society prepares students to examine health issues as a result of the interrelation between biological, social and environmental factors. The certificate is unique in its integration of the medical humanities and the social sciences of health.
Students pursuing the certificate will gain an understanding of the complexity of global health issues and their relation to animal, climate, and environmental health, as well as social inequality and injustice.
WHO SHOULD ENROLL
The certificate is especially valuable to students pursuing careers in medicine, nursing global or public health, medical anthropology, medical humanities, pre-law, science and technology, health care industry, health advocacy and/or health care policy.
HOW IT WORKS
To earn this certificate, students must complete a minimum of 15 hours, with at least 9 credits taken at the 300 level or above. All courses must be passed with a C at a minimum, for a total GPA above or equal to 2.5 GPA. Courses cannot be taken pass/fail.
CONTACT US
---
Dr. Trevor Durbin (Anthropology) tdurbin@ksu.edu
Dr. Marta Alfonso-Durruty (Anthropology) alfonsod@ksu.edu
Mr. Gabe Bachura (Advisor, SASW) gbachura@ksu.edu
Certificate in Religious Studies
In our swiftly globalizing world it is more important than ever that we understand the diversity of global religious practices, philosophies, and beliefs. The Certificate in Religious Studies offers K-State students a pathway for the academic study of religious objects, texts, media, archives, and cultures.
Learn more about the Religious Studies Certificate
Religion is pervasive in many societies and is therefore essential to how we and others see the word. Students of religious studies will learn and analyze how religious beliefs and values undergird politics, economics, business, art, literature, and many other aspects of society. In our globalizing world, the skills and knowledge gained by understanding religions adds a layer of historical context, critical thinking, and cultural awareness that can be beneficial in many careers. The academic study of religion will prepares students analyze and understand how histories and cultures of religion affect our present and shape our futures.
WHO SHOULD ENROLL
The Religious studies certificate benefits all students that plan on pursuing a career in the field of education, anthropology, museum studies, diplomacy, international relations, philosophy, medicine and public health, law, international business, development, and sociology.
HOW IT WORKS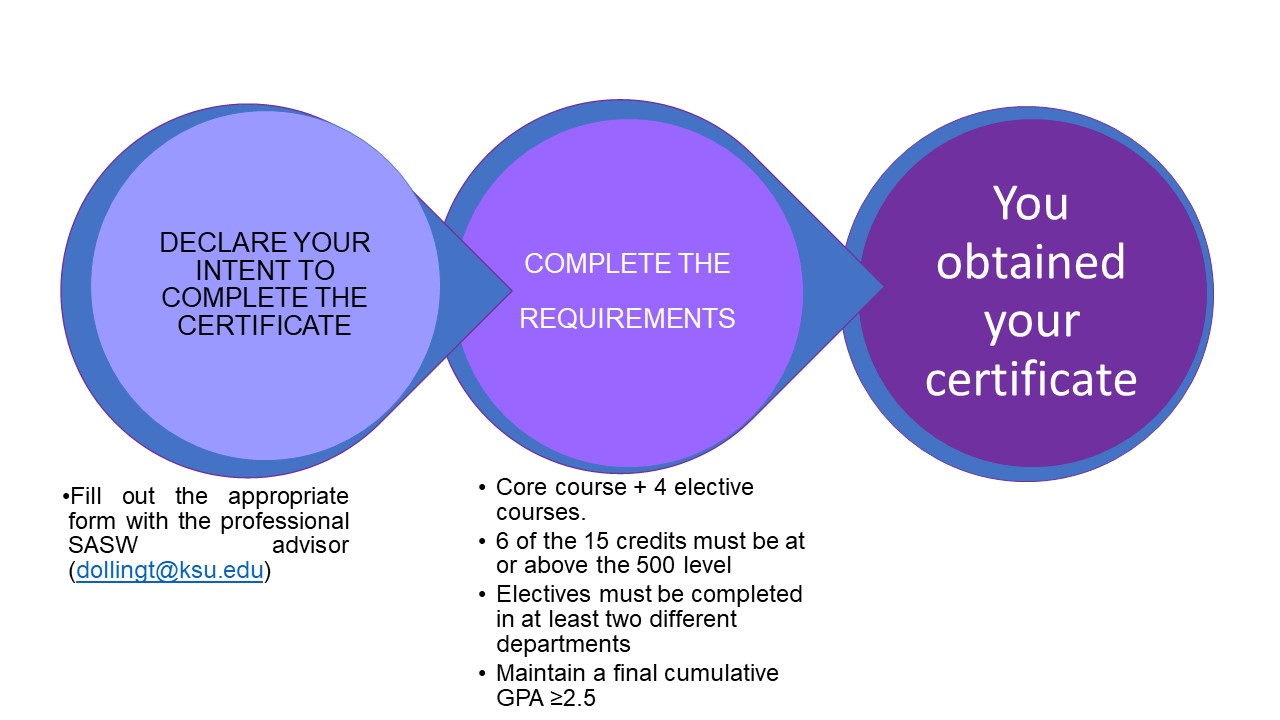 CONTACT US
After signing up for the certificate in the SASW main office, please feel free to set up an advising meeting with any of the following associated faculty and staff:
Jessica Falcone, Associate Professor of Anthropology jfalcone@ksu.edu
Michael Wesch, Professor of Anthropology mwesch@ksu.edu
David Ollington, SASW Advisor dollingt@ksu.edu
Other Minors and Certificates with substantial Anthropology Connections
Certificate in Film Studies: https://www.k-state.edu/english/certificate/film.html
Certificate in Linguistics: https://www.k-state.edu/english/certificate/ling.html
Minor in South Asian Studies: https://www.k-state.edu/oip/south-asia/