ALUMNI & FRIENDS
Our graduates travel and work all over the world.
ANTHROPOLOGY NEWSLETTERS
---
GIVE TO ANTHROPOLOGY
---
Alumni and friends are at the core of the Anthropology community in Kansas State. All alumni and friends are vital to the past, present and future of Anthropology at Kansas State University. Your contribution is extremely important to us, as we work to remain one of the best undergraduate anthropology programs in the country. We thank you in advance for your contribution. To donate go to: GIVE TO ANTHROPOLOGY
ALUMNI
---
Get in touch with other alumni, friends, and current students at KSU Anthropology Alumni Facebook page.
Laura Bathurst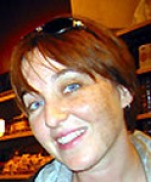 Laura graduated in 1997, with a BA in Anthropology and Spanish (with honors). After studying in Spain for a year, she returned to the US and received a Mellon Fellowship to pursue her doctoral studies in Cultural Anthropology under Dr. Laura Nader at the University of California-Berkeley. After a year of fieldwork among the Takana, an indigenous ethnic group in the tropical forest of northwest Bolivia, she completed her dissertation (PhD Berkeley 2005). She currently serves as an Assistant Professor of Anthropology at the School for International Relations, University of the Pacific.
Brian Becker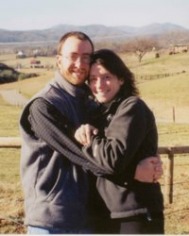 Brian earned B.S. degrees in Anthropology and Wildlife Biology in 1996, and Natural Resources and Environmental Sciences in 1997 from Kansas State University, Manhattan, Kansas. He served as a Peace Corps Volunteer in Nepal from 1997-2000. He received his M.S. From University of Florida in Agroforestry in 2004. Brian's research uses satellite imagery to analyze forest productivity on a landscape level to estimate the quantity of woody biomass that might be available for a bio-based industry plant, considering energy content and carbon balance, not just economics. The goal is to build dynamic models in a GIS database to examine scenarios for determining optimal size and sites of such plants. The scenario modeling facilitates considering various bio-fuel crops to optimize energy and carbon balance. Brian is president of the Bioenergy and Sustainable Energy Society. He is also a researcher at the University of Florida in the Phytoremediation and Short-rotation Woody Crops Renewable Energy Program while he works on his doctorate at U Florida.
Lucas Bessire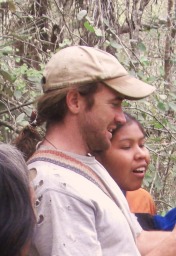 Lucas graduated cum laude from K-State's anthropology program in 2001, was awarded a Fulbright scholarship to conduct ethnographic research in an Ayoreo Indian village in Bolivia. This resulted in a documentary film (Asking Ayahai). He then went on to pursue graduate studies in anthropology at New York University, during which he received a Mellon Foundation Fellowship (2002), followed by several other awards. After completing 21 months of fieldwork with the Totobiegosode, a recently-contacted Ayoreo tribe in the Gran Chaco of northwestern Paraguay, he published several articles and completed a second documentary film (From Honey to Ashes). In February 2010, he successfully defended his doctoral dissertation Behold the Black Caiman: Politics, Desire and Becoming Ayoreo in the Gran Chaco. Dr. Bessire was in residence at the School for Advanced Research in Santa Fe, New Mexico during the 2010-2011 academic year while funded by an Andrew W. Mellon Foundation/American Council of Learned Societies (ACLS) Early Career Fellowship. He is Assistant Professor of Anthropology at the University of Oklahoma. In 2015 he was awarded the Bateson Prize by the Society for Cultural Anthropology for his book Behold the Black Caiman: A Chronicle of Ayoreo Life (University of Chicago Press).
Bruce Broce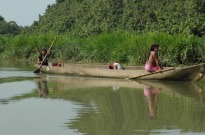 After graduating in 1994 (?), Bruce spent a season in Queretaro, Mexico, where he taught English as a second language and pursued a visual ethnography. He then continued his graduate studies in visual anthropology at Temple University, Philadelphia. After completing his Masters degree, he directed excavations of "disappeared" human remains in Panama, the gruesome legacy of a military dictatorship in his father's homeland. Bruce also did ethnographic fieldwork with Emberra Indians on Panama's Pacific coast. After several years of working for Panama's Truth Commission, investigating human rights violations and crimes against humanity, Bruce returned to Temple to complete his doctorate in anthropology, briefly taught visual anthropology at the University of Vermont, and now works at the KSU Foundation.
Christine Changho Bruneau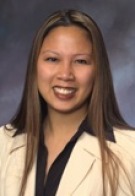 After graduating with a BA in Anthropology at KSU in 1994, Christine Changho traveled to the Philippines where he father's family had lived for several generations. She then returned and studied law at Tulane University Law School, obtaining her JD in 1998. Specialized in toxic tort defense; products liability; admiralty and maritime defense; environmental law, and general civil litigation, Chrissy has become a prominent lawyer in Louisiana. She has been admitted to the bar in several U.S. District Courts of Louisiana and Texas, and the U.S. Court of Appeals, Fifth Circuit. A member of several legal associations, including the Association for Women Attorneys in Louisiana, she is an Associate in the professional law corporation Abbott Simses, New Orleans.
Alexandra Buck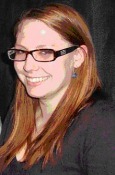 Alexandra graduated from K-State in 2008 with a BS in biology and anthropology where she spent three years working with the K-State archaeological collections and two years teaching fellow undergraduates about human biology and evolution in Intro to Physical Anthropology and Osteology labs. Alexandra continued her studies in biological anthropology while working as a teaching assistant at Binghamton University in central New York. She studied Pacific Island population genetics and earned her Master's in 2010. After graduation she became trained for a career in teaching science in Texas. She is presently teaches high school science in Austin.
Chris A. Deter
Chris was a self-described "ski-bum" from Colorado, and then traveled to Namibia as an undergraduate. This helped spark her interest in anthropology. After graduation, Chris helped excavate human bones in Guatemala where thousands of Maya Indians had "disappeared." Killed by death squads, their bodied were dumped in mass graves. Years later, their bones were found and analyzed by forensic anthropologists. From Guatemala, Chris left for England, where she pursued her graduate studies at the University of Sheffield, and went on to research ancient human teeth at the University College of London, where she obtained her PhD in 2007. She presently works at the University of Kent where she studies the diet of past populations through analysis of rate of tooth wear, stable isotopes, and other indicators of differences in past diets held in the skeletal remains of ancient populations.
Rose Wishall Ediger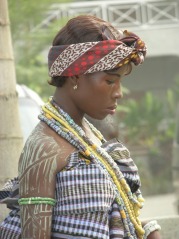 With a BA in Anthropology and French (summa cum laude) at KSU in 2001, Rose entered the Graduate Program of Anthropology at the American University, Washington DC. Having completed her Masters, she is currently completing her doctoral thesis. This thesis is based on over two years of participant observation and interviews conducted in a francophone African Catholic congregation and among its members. She has attended weekly church services; prayer and committee meetings; congregation activities such as dinners, retreats, and prayer services; and she has interviewed congregation members—focusing on Central African women—and followed them in their daily routines. Rose focuses on the meanings of Christianity and Catholicism in this particular congregation, and on the ways that contact among various networks of people affect these meanings. In addition to completing her PhD, Rose is a mother of two, has worked as a research assistant at the National Museum of Natural History, Smithsonian Institution, and presents her research at international conferences. In 2008, Rose won the prize for Best Qualitative Study at the Mathias Student Research Conference. Funded by an American University Dissertation Fellowship, she is currently writing her doctoral thesis titled "The Role of Identity in the Daily Life of Francophone, Christian African Immigrants in Washington, DC," and works as a Lecturer of Anthropology in Washington DC.
Mitchell Frye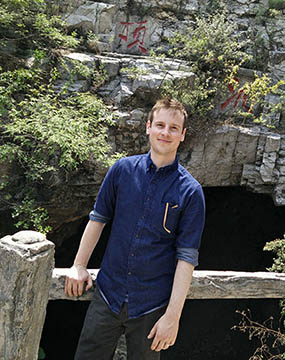 After completing his degree in anthropology at K-State and working for a short time as an archaeologist, Mitch decided to pursue graduate studies in audiology. His research earned him the Kansas Speech-Language-Hearing Association Scholarship for Doctoral Research and a National Institute on Deafness and Other Communication Disorders Ruth L. Kirschstein National Research Service Award Training Grant for summer study and research at Washington University School of Medicine in St. Louis. In 2015 he completed his Doctor in Audiology (Au.D.), graduating the top of his class. He is presently (2016) pursuing a PhD. at the State University of New York University of Buffalo. His anthropology background helped him develop an interest in where the human sense of hearing and our ability to communicate meet the intricate biological processes of the human brain. As he has noted, his well-established background and interest in anthropology guides him to insights others in his field miss. His anthropology interests also served him well during a recent trip to China where he not only received four weeks of special medical training and presented his recent research, but also had the opportunity to visit the renowned fossil hominin site of Zhoukoudien, an experience he treasured after years of interest in this site.
John Hawks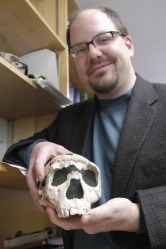 Having graduated in 199?, John won a prestigious fellowship to study paleoanthropology under Dr. Wolpoff at the University of Michigan-Ann Arbor. He is now Vilas-Borghesi Distinguished Achievement Professor of Anthropology at the University of Wisconsin-Madison, and is recognized as one of the world's foremost authorities on Neandertals. He also is a key researcher into recently discovered Homo naledi finds in the Rising Star cave system in South Africa. Check out Dr. Hawks amazing paleoanathropology weblog.
David R. Howell
David Howell graduated from our program in 1971, then went on to complete studies towards a Ph.D. in cultural anthropology at the University of Virginia. He has had a very successful career with the US Federal Government where he served in various positions with the Department of Health and Human Services, Commission on Immigration Reform, Immigration and Naturalization Service, and Citizenship and Immigration Services. His duties have included research, strategic and policy analysis and planning/development, human capital management, leadership development, and organizational design. Positions he has held include, among others, Acting Director of Policy & Planning, Bureau of Immigration Enforcement; Chief of Policy & Strategy, Bureau of Citizenship & Immigration Services, Department of Homeland Security; and Acting Chief Human Capital Officer, US Citizenship & Immigration Services.
Madison Huber
Madison earned a BA in both anthropology and Spanish from Kansas State University in 2008. She then graduated from the University of Kansas (KU) in 2011 with a MA in cultural anthropology. While at KU, she specialized in applied anthropology, Latino immigration, and nonprofit organizations that serve immigrant populations. She is now an adjunct associate professor in anthropology at Johnson County Community College (JCCC). When not teaching, she spends her time working for the Center for American Indian Studies at JCCC and contributing to research conducted by a public health team at KU Medical Center. She also pursues her own research, working with a social worker from KU to study a local school district's ability to adapt to a growing Latino population.
Jenny [Schrag] James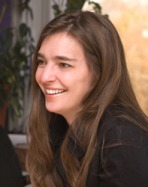 As an under-graduate anthropology student, Jenny spent a summer studying Mennonite-Indian relations in the Gran Chaco of Paraguay. After graduation in 1994, she continued her studies at the University of Arizona, where she completed her Masters in Cultural Anthropology. Specializing in Applied Anthropology, she has been a researcher at the Bureau of Applied Research in Anthropology. Her projects included an ethnographic study of the social impacts of the offshore oil industry on workers and their families in Southern Louisiana. She has also worked on cultural resource projects with the National Parks Services and managed the data of a large-scale food security survey effort in Haiti. In 1999, Jenny and her husband moved to San Diego. She founded the San Diego office of an applied social science research firm and is now Vice-President of Harder+Company. Trained as an anthropologist, she has strong technical skills in social science research methods, participatory research, action research, data management, and decision-making. Also a proud mother, Jennifer manages and directs project treams involved in research and technical assistance for a wide range of funders, public agencies, and community-based organizations in California and beyond. Her projects include early childhood development, tribal education, child welfare, and the humanities.
Daniel Keating
Daniel graduated in 2006 with a B.A. degree in Anthropology. He then entered the graduate program of anthropology at the University of Kansas, where he earned a M.A. with honors. The research for his thesis was funded by the Odyssey Archaeological Research Fund, whose primary goal is to search for evidence of the earliest people to inhabit the Central Great Plains and to gain a better understanding of the late Pleistocene and early Holocene paleoenvironments that affected those people. Daniel's research focused on the late quaternary geoarchaeology along the north shore of Lovewell Reservoir in Jewell County, Kansas in order to analyze the potential for early-Paleoindian sites. While performing archaeological fieldwork in western Kansas and in the Middle East, Daniel became very interested in the dynamic interplay between the law, public policy, culture, and environment as it relates to the use of water. In pursuit of this interest, Daniel also attended the law school at the University of Kansas. At KU Law, Daniel served first as a Staff Editor and then as an Articles Editor for the Kansas Journal of Law and Public Policy, as well as a Features Writer for the Kansas Law Free Press. He also received the CALI Future Award for Excellence (top grade) in the Public Policy Clinic for his research paper that analyzed the potential impacts of the proposed changes to the state's water laws. Daniel is currently a practicing attorney in the Kansas City area. He also serves as General Counsel for Experience Baseball, which was founded by fellow KSU Anthropology Alumnus, Tobias Blake. Experience Baseball is a non-profit organization that promotes social justice among baseball fans and supports at-risk youth development in neighborhoods home to professional baseball.
Ryan Klataske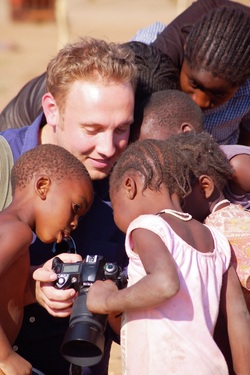 Ryan Klataske graduated in 2006 from Kansas State University in Anthropology and Spanish. Passionate about travel, languages and other cultures, Ryan studied in Spain and Mexico and taught English in China during his undergraduate years. Following graduation, Ryan traveled through eastern Canada and Western Europe, working on farms in Canada, Belgium and France. Ryan entered the graduate program in Anthropology at Michigan State University in 2007 and completed his Masters degree in 2009. In June of 2010, he returned from a year in Namibia—his second trip to the southern African country—where he conducted doctoral fieldwork and served as a Rotary Ambassadorial Scholar. His research examines environmental conservation, issues of land and natural resource use and complexities of rural change, and focuses specifically on the political ecology of conservation, conservancies and private land in Namibia. As part of his scholarship to southern Africa, Ryan also had the opportunity to travel through parts of South Africa and collaborate with an agriculture project and seed bank initiative among smallholder farmers in the central highlands of Angola. Much of Ryan's academic, professional and personal involvement centers on the relationship between environmental conservation and rural livelihoods. For a number of years, he worked on issues of wildlife and prairie conservation for a non-profit organization in Kansas and is currently assisting in the development of ecotourism for a wildlife sanctuary along the Niobrara River in northern Nebraska. He has received training in ecology and environmental sciences and, in addition to Anthropology, is pursuing a dual-PhD in the Ecology, Evolutionary Biology and Behavior Program at Michigan State. An avid photographer, several of his photos have won awards and recognition. Although he always enjoys exploring new places, Ryan holds a special affection for his home and family ranchland in the Flint Hills of Kansas.
Kelsey Kreiser

After graduating from K-State, I entered the University of South Florida Applied Anthropology program. The program focuses on promoting public programs, like archaeology, by getting involved in community events and hosting public archaeology days around Tampa. My thesis research, while focusing on the peopling of northwest Florida, also emphasizes the importance working with locals and collectors to share information. Outside of my thesis I work in the USF archaeology lab and at a Cultural Resources Management firm in the area.
Clark Spencer Larsen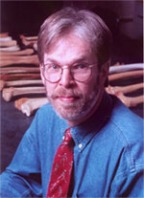 Hailing from Nebraska, Clark Spencer Larsen is an anthropologist who has become an internationally known specialist in bioarchaeology. After his BA in anthropology (with honors) at KSU in 1974, he pursued his graduate training in anthropology at the University of Michigan-Ann Arbor (PhD 1980). In 1999, he became the Amos Hawley Distinguished Professor of Anthropology at the University of North Carolina, Chapel Hill. That same year, he was elected President of the American Association of Physical Anthropologists (1999-2001). In 2002, Ohio State University offered him a position as Distinguished Professor of Social and Behavioral Sciences at Ohio State University. In 2016 Dr. Larson was elected to the National Academy of Sciences. He has spent most of his professional career directing the La Florida Bioarchaeology Project, involving the collaboration of scientists from the United States and elsewhere. Methods of analysis include biomechanics, paleopathology, dietary reconstruction (stable isotope analysis, tooth microwear). A popular account of the project is presented in "Skeletons in our Closet: Revealing our Past Through Bioarchaeology" (Princeton U Press, 2000). Dr. Larsen currently chairs OSU's Dept of Anthropology and co-directs the Global History of Health Project, involving the collaboration of scientists and study of skeletons from Europe, Asia, Africa, and Australia.
Robert J. Losey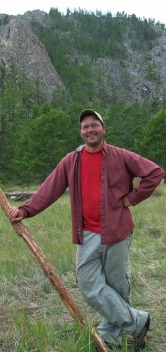 Dr. Robert Losey was raised on a cattle ranch in western Kansas and attended KSU from 1990 to 1994. He received his masters degree in 1996, and Ph.D. in 2002, both from the University of Oregon. In 2003 he was a post-doctoral research fellow at the Smithsonian Institution. Specialized in zooarchaeology, mortuary archaeology, and ethnography of the Pacific Northwest and Siberia, he is currently an associate professor at the Department of Anthropology, University of Alberta.
Abra Lyman
In 2000, Abra successfully completed her BA in Anthropology at Kansas State University, where she was very active in Amnesty International, the African Student Union, Phi Beta Kappa, and served as editorial assistant for the Visual Anthropology review section of the journal American Anthropologist. After almost a year in Kenya, she returned to the US and worked for Cultural Survival, the Cambridge-based non-profit organization dedicated to promoting the rights of indigenous peoples worldwide (2001-2003). In addition to serving as its Africa News Editor/ East African Indigenous Rights Correspondent, she was Project Coordinator for the Simba Maasai Outreach Organization, Kenya (2002-2003). Deciding upon a politically-meaningful career in human rights, Abra then enrolled in the graduate program of American University in Washington DC, studying anthropology as well as law. In the next few years, she worked as Legal Intern at Indigenous Peoples of Africa Coordinating Committee/South African San Institute, and also as Legal Intern at Washington Legal Clinic for the Homeless. In 2005, Abra completed the International Human Rights Comparative Law Program in Europe. In the next two years, she served as student attorney in Washington College of Law's International Human Rights Legal Clinic. In 2007, Abra had completed her MA in anthropology and obtained an JD in International Law. Abra is now practicing as an Indigenous Rights Attorney in the Washington DC Metro area.
Jennifer Macy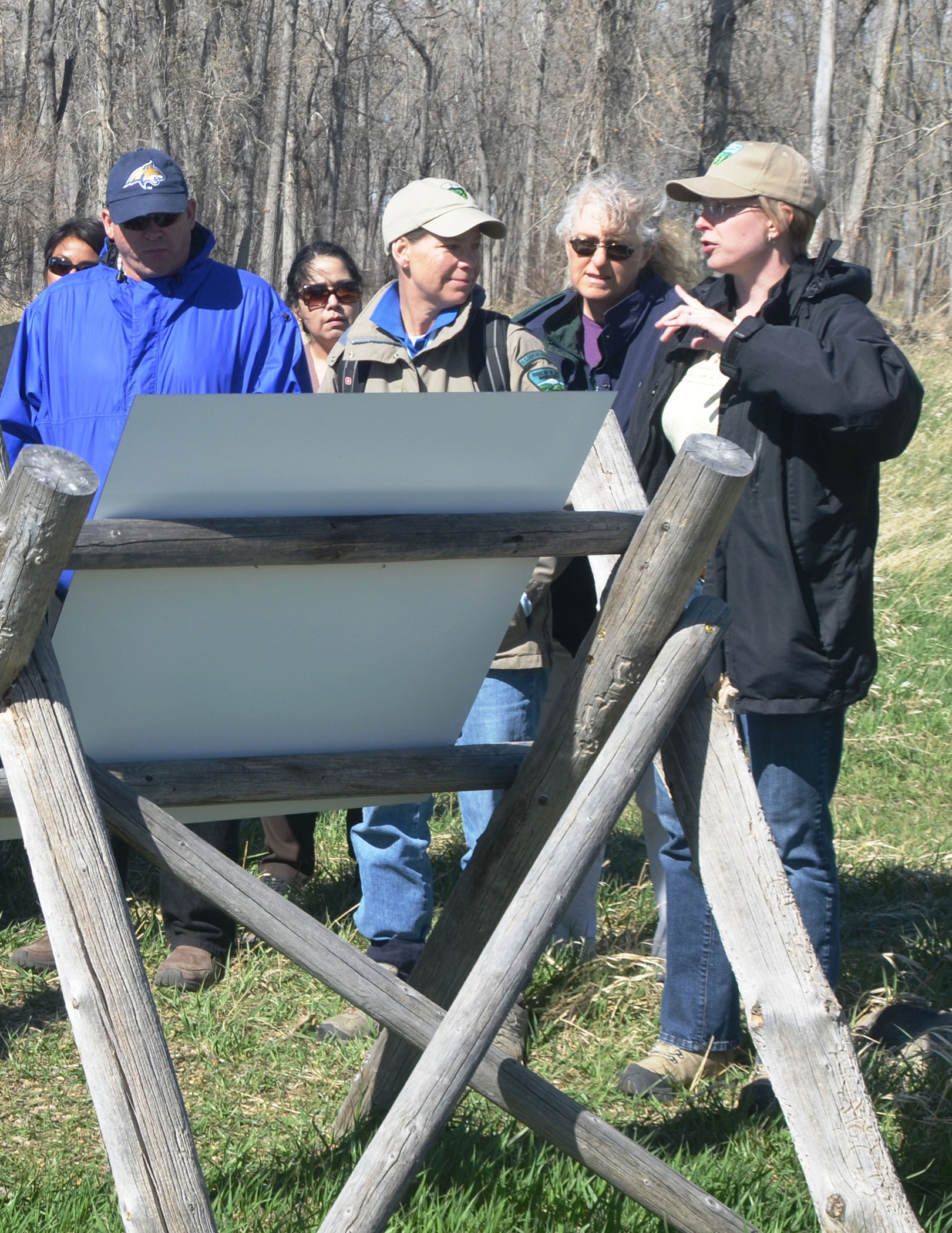 Jennifer Macy is Archaeologist with the Bureau of Land Management (BLM) in Billings, Montana. Previously she was Field Archaeologist for the Bureau of Indian Affairs (BIA) Rocky Mountain Regional Office. In her various capacities, she has worked with planning and rehabilitation projects related to compliance with cultural resource laws and managed the cultural and paleontological resources on federal lands. Prior to federal service, Jennifer spent several years conducting cultural resource compliance for an engineering company in Bismarck, North Dakota, and Billings, Montana. That work followed various archaeological projects across the western half of the US, graduate studies at the University of Kansas (MA) and the University of New Mexico, and undergraduate studies in history and anthropology at Kansas State University. See her 'Voices from the Field.'
Mark Maddox
After graduating in our program with a BA in Anthropology in 1998, Mark continued his graduate training in cultural anthropology and sociolinguistics at Tulane University, New Orleans, where he is specializing in the Maya Indian cultures of Mesoamerica. His specific research interests focus on language maintenance, shift, and revitalization in conjunction with issues of bilingual education, economics, religion, and politics in Kaqchikel Maya and other indigenous communities throughout Mesoamerica. He married a fellow doctoral student, a Maya from Guatemala, and has completed his fieldwork among the Mayas of San Antonio Aguas Calientes and the Quinizilapa Valley, Sacatepequez, Guatemala. Mark is currently completing his doctoral dissertation at Tulane University.
Lauren Markley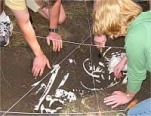 Lauren Markley graduated from our program in 1995 and continued her studies in physical anthropology at the University of Toronto, Canada. There she completed her thesis, entitled "Hominid Paleoecology at the Mio-Pliocene Boundary," and her Master's degree in Anthropology in 1997. She has gone on to study jewelry design and metalsmithing, presently focusing on crafting unique one-of-a-kind jewelry.
Sarah Meitl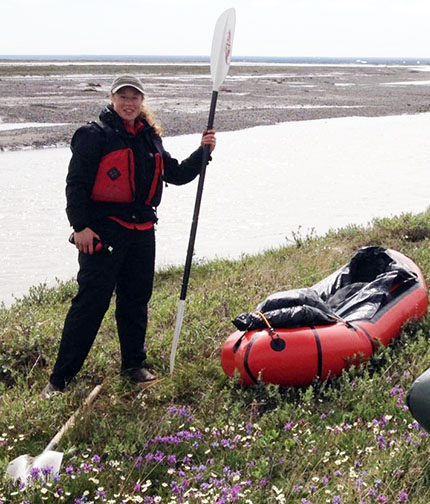 Sarah enjoyed an active life at K-State, including study abroad in Russia. After completing her Bachelor's degree in 2006, she expanded her education in archaeology at the University of Alaska at Fairbanks. Having earned her Master's in 2008, she has gone on to work as an archaeologist with a cultural resources firm based out of Anchorage, Alaska. Her areas of specialization include GIS and ArcPad, spatial analysis, prehistoric artifact and feature analysis, radiocarbon dating, ethnohistory, and field survey. She has had the opportunity to work in arctic, sub-arctic, and coastal regions of Alaska on historic and prehistoric sites.
Janelle Meyers Menard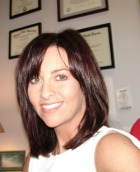 Janelle completed her undergraduate studies at KSU with a BA in French and a BSc in Anthropology in 1994. Already interested in medical anthropology, she received a graduate fellowship to pursue a Masters in Anthropology at the University of Alabama, followed by a Masters in Public Health at the University of South Florida. Janelle is currently completing her PhD in Medical Anthropology at the University of South Florida. Her research interests focus on Caribbean ethnomedicine, medical treatment choice, Martinique, Haiti, political economy of cervical cancer, cancer epidemiology, cancer disparities, Caribbean immigrant women's health, cultural competency in U.S. health care, medical anthropology in public health.
Trever Murawski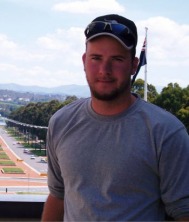 While at K-State (2002-2004), Trever gained archaeological training and experience in the classroom and at several sites in eastern Kansas under the direction of Drs. Ritterbush, Logan, and Roper. After graduation he worked as an archaeologist out of Denver before enrolling in a graduate program in archaeology at the Australian National University in Canberra, Australia (2005-2007). There he gained new experiences while studying and working in eastern Australia. He earned his M.A. in 2008. His thesis, which was based on fieldwork at Lake Mulurulu and Lake Mungo, focused on mid to late Holocene lithic reduction techniques in relation to mobility in the Willandra Lakes Region. After returning to the United States he worked as an archaeologist for CRM firms located in Kansas and Nevada (2007-2010) before returning to Australia to work in the Pilbara region of NW Australia (2010-2013). Since returning to the United States in 2013 Trever continues to work in the Great Plains region. He remains interested in the archaeology of Australia, the Pacific Islands, and American Great Plains.
Rebecca Norman
Rebecca graduated in 2011 with a B.S. in Anthropology and Pre-Law. During her undergraduate studies she attended an archaeological field school in Northern South Africa. There she helped to create an evaluation and conservation guide for current and future archaeological and biological sites.She assisted a doctoral candidate in his primatology research on the native Samango monkeys and discovered a method for identifying and tracking genets utilizing current leopard tracking measures. She also developed an eco-tourism plan focused on conservation and education highlighting archaeological sites such as cave paintings. After graduation, Rebecca joined Peace Corps and served as an English teacher in Kozyatyn, a remote village in central Ukraine. She currently works for Children International as an Advocate partner. She educates current and future sponsors about the realities of poverty and how they can help in sustainable and culturally appropriate ways.
Matt Padilla
Matt attended KSU from 2000 to 2003 and graduated with a BA in anthropology. In 2006, he earned a Master's in anthropology with a minor in GIS from New Mexico State University. While at NMSU, he focused on the theoretical underpinnings of cultural resource management (CRM). During his summers at K-State and NMSU, Matt worked as a field archaeologist with the US Forest Service on the Black Hills National Forest in western South Dakota and the Plumas National Forest in northern California. After obtaining his graduate degree, he worked for two years on the Plumas National Forest as a CRM archaeologist. Matt and his family then returned to South Dakota where Matt served as district archaeologist on the Black Hills National Forest. There he managed historic and prehistoric archaeological sites on public land and protected them from damage caused by development, weathering/aging, vandalism, and catastrophic wildfire. He currently is the Heritage and Tribal Relations Program Manager for the Shasta-Trinity National Forest in Northern California. There he oversees the work of four professional archaeologists and archaeological and tribal consultation of projects across 2.1 million acres of public land. His training at K-State and beyond prepared him to guide the U.S. Forest Service through compliance with federal laws, assure archaeological studies are using the most current scientific methods and approaches, and plan archaeological projects to help understand and preserve our nation's history. An equally important part of his job is to integrate local American Indian tribes into project planning so their sacred sites and cultural values are not harmed. Check out his 'Voices from the Field.'
Kyleigh Payne
Since 2015 Kyleigh has worked for Equal Access, an international nonprofit organization dedicated to creating positive social change for millions of under-served people across the developing world. Prior to this, she was active with program development for the National Democratic Institute (NDI), a nonprofit organization that supports and strengthens democratic institutions worldwide through citizen participation, openness, and accountability in government. In that position she ensured that NDI's global programs both meet the needs of beneficiaries and reflect the priorities of donors. She gained earlier experience at the Middle East Institute (MEI) and the National Conference of State Legislatures (NCSL) with researching and writing on Turkish politics at MEI and examining state fiscal policy at NCSL. She holds a Master's in International Studies from the University of Denver's Josef Korbel School of International Studies and a Bachelor's in Anthropology from Kansas State University.
Judith M.S. Pine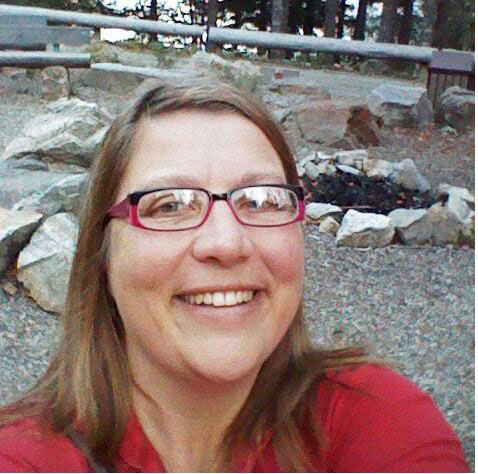 After graduating from our program at KSU in 1985, Judith continued her graduate training in linguistic anthropology at the University of Washington. Judy, who was an ROTC cadet, served in the Army for four years before returning to academia. She earned her PhD in Anthropology at the University of Washington, with a dissertation based on fieldwork among Lahu people in northern Thailand. Her ongoing research includes fieldwork among Lahu speakers in Thailand and in China. Judy is currently an Assistant Professor in the Anthropology Department at Western Washington University. http://www.wwu.edu/anthropology/faculty/pine/index.htm
Tobin Roop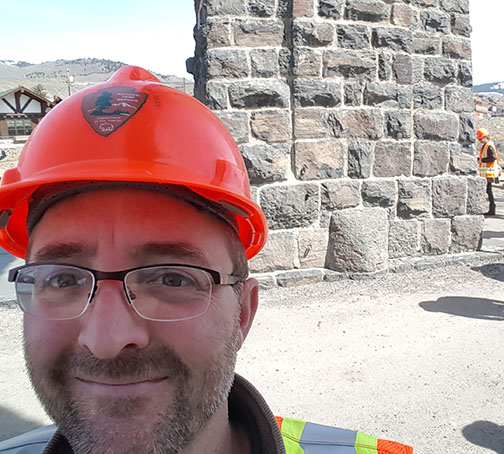 Tobin Roop is the Branch Chief for Cultural Resources at the Yellowstone Center for Resources at Yellowstone National Park. In this capacity he manages Yellowstone's archeology, history, museum management, ethnography programs and works with maintenance, concessions, and compliance staff on construction, planning, and rehabilitation as it relates to historic buildings and landscapes. Before Yellowstone Tobin was the Chief of Maintenance and Cultural Resources at Tallgrass Prairie National Preserve in Kansas where he managed the Spring Hill / Z-Bar Ranch complex, an 11,000 acre National Historic Landmark. Prior to working at Tallgrass, Tobin was the Vanishing Treasures Archeologist at Salinas Pueblo Missions National Monument in New Mexico where he was responsible for cultural resource management activities at three nationally significant pueblo ruins sites and the associated 17th century Spanish mission ruins. Prior to Joining the park service in 2002 Tobin worked on various archeological projects throughout the Midwest and Southwest United States. Tobin is from western Kansas and graduated from Garden City High School in 1995. He graduated from Kansas State University with a B.S. in Anthropology in 2001 and attended graduate school at the University of Anchorage, Alaska from 2003-2005.
Beth Shirley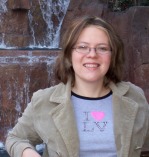 After graduation from K-State, Beth Shirley entered the Museum Studies Program at the University of Kansas. She completed her Master's degree in Museum Studies in 2009. While undertaking her graduate studies she served as the Lela Barnes Intern for the Library and Archives division of the Kansas Historical Society and a graduate assistant for the University Archives at Spencer Research Library at KU. Beth has also served as a research assistant and archaeological technician for the Kansas Historical Society. She presently serves as a museum professional out of Lawrence, Kansas, with special interests in Museum Education and Archives and Records Management.
Ben M. Shields

After graduation with a BS in anthropology in 2000, Ben Shields continued his studies in anthropology at the University of Alabama, where he completed his Masters in 2003 with a thesis An Analysis of The Archaic Human Burials at The Mulberry Creek (1CT27) Shell Mound, Colbert County, Alabama. Focusing on bioarchaeology and warfare of pre-contact foragers in the Southeast, he was then accepted I the doctoral program at the University of North Carolina-Chapel Hill. Also interested in archaeological photography and forensic archaeology, Ben joined the Archaeology Unit of Newfoundland's Memorial University in 2006 and participated in archaeological Investigations in Nachvak Fiord, Newfoundland-Labrador, Canada. Ben has taught courses in anthropology and women's studies, while also serving as a writing consultant. He is also an accomplished photographer.
Eric Skov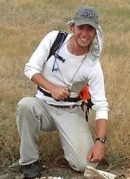 Eric graduated from K-State in 2008, with degrees in Anthropology and History, with a focus in archaeology. For two years he gained experience doing lab analyses and field archaeology, eventually becoming a crew chief for archaeological surveys. He then enrolled in the Master's program at the University of Nebraska – Lincoln, earning his MA in 2013. His thesis topic concerned the experimental evaluation of the effectiveness of slings as projectile weapons and is available at http://digitalcommons.unl.edu/anthrotheses/30/ . In the course of his career he has worked for a variety of Cultural Resource Management firms as well as multiple appointments in the US Forest Service. This has allowed him to work from the eastern Great Basin through the Rocky Mountains and Northern and Central Plains and into the Southeastern US. He is presently employed through the Center for the Environmental Management of Military Lands, based at Ft. Riley, KS and lives in Manhattan. His research interests include landscape archaeology, experimental archaeology and lithic analysis.
Kendra Stewart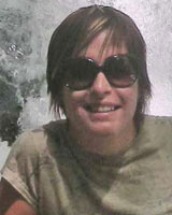 Kendra grew up on a farm in rural Kansas, studied cultural anthropology at KSU, and graduated with a BA in Anthropology and German in 2001. Interested in feminist anthropology, she continued her graduate training at the University of Iowa. After spending two years in Israel/Palestine completing her fieldwork and interning for the Mossawa Center, an advocacy center for Palestinian Arab citizens in Israel, she has returned to Iowa to begin writing her dissertation. Her research focuses on the cultural political implications of women's soccer in Israel, focusing primarily on the only Palestinian Arab women's soccer team in the Israeli league. Her work at the Mossawa Center focused primarily on writing position papers and recommendations to members of the European Parliament and Commission and other international actors whose policies affect the Palestinian Arab citizens in Israel. Kendra has also served as a Crossing Borders Fellow at the Obermann Center for Advanced Studies. She completed her Ph.D. in sociocultural anthropology at the University of Iowa and now works as an applied anthropologist for the Veteran's Administration healthcare system in Iowa City.
Merrily Stover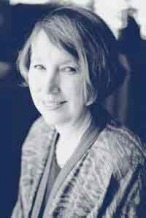 After her BA in Anthropology at KSU in 1970, Merrily Stover pursued her graduate training in cultural and linguistic anthropology at the University of Hawaii. Her field research on land and social changes was conducted in American Samoa and supported by the National Science Foundation. Involved in distance learning since 1992 when she first taught for the British Open University in London, she served as Academic Director for Behavioral and Social Sciences, and Humanities, in the Open Learning program, University of Maryland University College (1993-97). In 1997, she was selected for the inaugural program of the Certificate in Distance Education for Professionals, awarded by Carl von Ossietzky University of Oldenburg, Germany, and the Institute for Distance Education, University System of Maryland. Dr. Stover also taught at University of London Birkbeck College, Monterey Institute of International Studies, and the University of Hawai'i in a special program in American Samoa. Currently, she is Professor and Assistant Dean for Communication, Arts, and Humanities, at the University of Maryland University College.
Stan Struble
Past President of Nebraska's Writers Guild, author Stan Struble graduated from our program with a BA in Anthropology (1974). His publishing credits include articles and fiction novels, including Filth Eater and Sins of the Jaguar, both set in Mexico, as is his latest anthropological novel Descent Into Xibalba soon to be published in Spanish. Stan is a Family Teacher, certified Parent Trainer, a youth counselor at Boys Town, NE and an adjunct Sociology teacher for Metropolitan Community College in Nebraska.
John Tomasic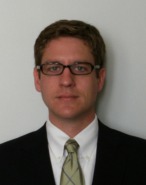 John obtained his BA in anthropology at KSU in 1997. Long fascinated by the ancient Maya, he has participated in and led archaeological excavations in Central America (Guatemala and Honduras). After completing his Master's degree in anthropology at the University of Kansas (2001), he received his doctorate in Mesoamerican archaeology at Vanderbilt University (2009). His dissertation research at the site of K'o, Guatemala examined long-term patterns in power and wealth in ancient Maya economies, and was sponsored by the National Science Foundation and National Geographic Society. His dissertation is available at http://etd.library.vanderbilt.edu//available/etd-03242009-093236/ Since completing his dissertation, John served as visiting assistant professor of anthropology at Centre College in Danville, Kentucky and position as Archeologist with the Kansas Historical Society in Topeka.
Sarah Trabert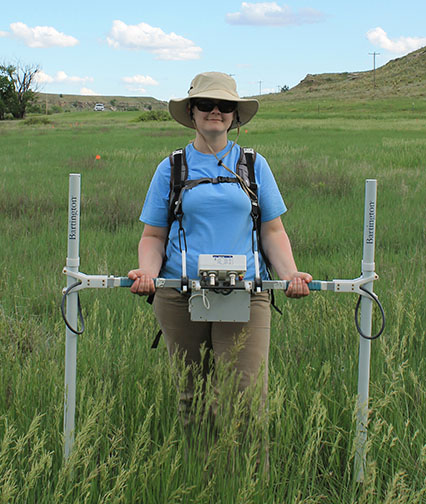 Anthropology completely changed how I looked at the world by expanding my knowledge and appreciation for the diversity of human cultures. I took what I learned at K-State and ran w ith it ... all the way to graduate school and two advanced degrees (University of Iowa). I'm now an Assistant Professor of Anthropology at the University of Oklahoma and a Great Plains archaeologist. I have the privilege of introducing new generations of students to all that anthropology can offer, and this is directly because of the excellent guidance and education I received as an anthropology major at K-State.

Caroline [Chapman] VanSickle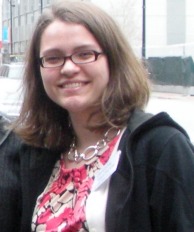 Caroline graduated from K-State in 2007 with a B.S. in anthropology, her focus in physical anthropology. While at K-State, she was a TA for Prof. Finnegan's Intro to Physical Anthropology Lab course, held various officer positions in Anthropology Club, and participated in the very first Sapiens Symposium (all activities she would recommend to any current students). She earned a Ph.D. in paleoanthropology at the University of Michigan under Prof. Milford Wolpoff. Specifically, she studied the morphology of recent hominid fossils (e.g., Neandertals) and how to explain the fossils in terms of biomechanical requirements. In 2014 Carolyn was awarded the first postdoctoral fellow in feminist biology at the University of Wisconsin where she worked with another renowned K-State paleoanthropologist, John Hawks. She continues her research on female human ancestors by investigating changes in pelvis shape — and therefore childbirth anatomy — during the course of human evolution. Her focus is on South African australopithecine species dating from 1.5 million to 3 million years ago and has recently become involved in research into Homo naledi. She presently teaches anthropology at Bryn Mawr.
Michael Wesch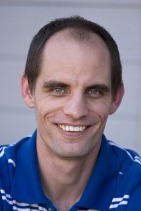 After two years at the University of Southern California, Michael returned to the Great Plains and enrolled in his parents' alma mater. He graduated with a BA in Anthopology (summa cum laude), and continued his studies in cultural anthropology at the University of Virginia. He obtained a Jacob Javits Fellowship as well as a National Science Foundation Fellowship, and did his doctoral fieldwork in the highlands of Papua New Guinea. Having obtained his PhD at U Virginia in 2005, he is now an Assistant Prof of Cultural Anthropology at Kansas State University. Especially since Spring 2008, his pioneering work in digital ethnography and media ecology has attracted worldwide attention. In 2008, the Carnegie Foundation elected him a US Professor of the Year.
Sarah Engler Wesch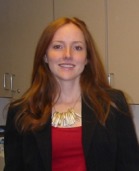 Sarah graduated in 1997 and went on to complete her doctorate in Clinical Psychology at American University in 2004. Her dissertation research explored how body image and conceptions of beauty were changing among women in rural Papua New Guinea under Western influence. She has served as a clinical psychologist at Kansas State University Counseling Services.
Rebecca (Whitehill) Wood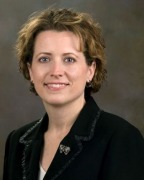 Rebecca is currently the Finance Director for the City of Chanute,Kansas, home of the Osa and Martin Johnson Safari Museum. After graduating as an anthropology major in 1998, she served as Community Development Director and Interim Economic Development Director, City of Liberal, KS. After two years, she became an Economic Development Representative for the Kansas Department of Commerce Housing. Rebecca then returned to K-State, first as Assistant Director and Project Coordinator "Kansas Service-Learning Consortium", next as Interim Executive Director, Kansas Campus Compact (KSCC), and Assistant Director, Kansas Center for Rural Initiatives (KCRI). Then, she coordinated a $3.5 million National Science Foundation ADVANCE Program at K-State to advance women faculty in science, engineering, and mathematics. She completed her Master of Business Administration(MBA) at K-State in 2009,and moved to Chanute in 2010. In her career so far, she has worked on issues such as economic development, historic preservation, cultural diversity, civic engagement, and gender equity.
Brian T. Wygal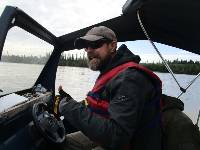 Brian earned a BS in Anthropology from KSU in 1998. He then accepted a research position with the National Park Service in the Alaska Regional Office and eventually in 2003 completed an MA degree from University of Alaska, Anchorage. In 2005, he was the co-recipient of a National Science Foundation grant to investigate the archeology and paleoecology of the middle Susitna River region of Alaska. The following year, Brian joined Denali National Park and Preserve as a research archaeologist where he partnered with the University of Nevada, Reno to conduct remote wilderness surveys in an effort to interpret the cultural chronology of the central Alaska Range. Brian earned his PhD from the University of Nevada in 2009. In 2010, he joined the anthropology faculty at Adelphi University in New York where he runs the Archaeology Laboratory and contributes to the Environmental Studies Program. He reports "I recall my time at KSU fondly and my undergraduate training provided me the essential foundation in both method and theory which carried me well through my MA and PhD programs. Because of the rigorous preparation and ample undergraduate opportunities to experience and learn the four-field approach to our discipline, I was much further ahead of others in my respective cohorts. KSU provided me a foundation I used to gain a tenure-track position from which I recreated the field and laboratory experiences I had as an undergraduate. Today, I bring students from all around the world into remote Alaska wilderness field settings and incorporate them into a wide variety of archaeological and anthropological research projects including uncovering evidence of the First Americans as they hunted woolly mammoth and other Ice Age fauna. I also work closely with contemporary Native Alaskan tribal councils to assist them in cultural education programs and libraries as well as archaeological research on traditional land and important sites. Without the strong foundation provided by the KSU Anthropology program, I would never have been able to achieve the level of success I have."